Plans for weekend – Medininkai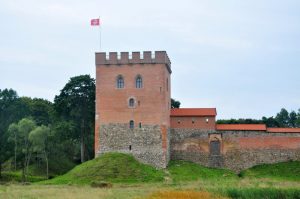 Medininkai is situated in the eastern part of the Vilnius region about 30 kilometers away from Vilnius on the border with Belarus. It is a village with a rich history and beautiful landscapes. Its main trump cards which may draw tourist's attention are recently renovated medieval castle, one of the first churches in Lithuania and the highest hill in Lithuania.
In the Holy Trinity and St. Casimir church in Medininkai, which was constructed in 1931, tourists can see the painting of the Saint Casimir, valuable Baroque pipe organs and exquisite wooden belfry. Medieval castle walls are located near the church. The castle was built probably in the 14th century, but in the 16th century it was unfortunately severely damaged due to numerous attacks. Two opposite corner towers and a part of the outer walls were restored. Branch of the Trakai Historical Museum is open in the 27-meter-high East Castle Tower which is divided in four exhibition halls. The entrance fee is 6 litas (50% discount for pupils, students and seniors). Tourist coming to Medininkai should visit also the highest points of Lithuania – the Juozapinė Hill (292,7 m) and the Aukštojas Hill (293,8 m).
Jubilee Harvest Festival
Medininkai eldership, parish of the Holy Trinity and St. Casimir church, the regional branch of the Association of Poles in Lithuania, the regional branch of the Electoral Action of Poles in Lithuania and the Culture Centre in Rudomin invite to the 10th Harvest Festival which will be held on 24th August at the Castle Square in Medininkai.
Schedule
From 9 am – preparation of the stands
12 am – thanksgiving mess, blessing of the harvests and harvest wreaths
1 pm – blessing of the stands
1.15 pm – harvest festivities with attractions for children, artistic performances, tasting the field kitchen dishes and award ceremony for the winners of contests: "Harvest Wreath 2014" and "Most tasty regional dish".
Translated by Maciej Jóźwiak within the framework of a traineeship programme of the European Foundation of Human Rights, www.efhr.eu.