Original Spelling of Surnames: a Fear of Bureaucracy and the Environment's Reaction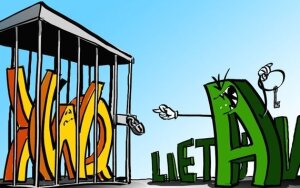 One may get the impression that the current Lithuanian government wants to repair as soon as possible, if not all, then at least most of the problems standing in the way of better relations with Poland and Poles.   In July there will be introduced a project of a new Act on national minorities to the Sejm and in May the Ministry of Justice has to prepare a project of the regulation allowing the original spelling of non-Lithuanian surnames .
"In order to prepare the regulation there has been established a working group and I hope that on the first of May we will be having the regulation and we will pass it on to the government for consideration. Now I cannot tell which solution we will choose; yet, it is obvious that our proposal won't be contrary to the Lithuanian Constitution and at the same time it will solve the problem so as not to violate human rights"—a few days ago declared the Minister of Justice, Juozas Bernatonis. In 1999 Lithuanian Constitutional Court decided that "a name and a surname of a person should be entered into a passport in the national language." Later the Court once again confirmed that position in 2009.
Treaty provision at issue
Institutionalized Polish-Lithuanian dispute relating to the spelling of surnames began in 1994 when between these two countries there was signed the Treaty on friendly relations and neighbourly co-operation. Pursuant to the Treaty, the Polish minority in Lithuania and the Lithuanian minority in Poland have the right to "express, preserve and develop their national, cultural, linguistic and religious identity freely without any discrimination and maintaining the principle of equality under the law individually or along with other members of their own group."
What is more, in the article 14 the Treaty stipulates that the representatives of the national minorities have the right to "sound their names and surnames in the language of the national minority; detailed regulations concerning the spelling of names and surnames will be specified in the separate agreement." This record became de facto a bone of contention between the two countries. First of all, the separate agreement has never been signed. Secondly, Lithuanians interpreted this record in a different way than Poles.
Lithuanian side very often apprehended words "sounded in the language of the national minority" as a phonetic transcription of a Polish surname, using only the letters existing in the Lithuanian alphabet. Poles, both local and living in Poland, assumed this record to be a clearance to write a name and a surname in accordance with the national minorities' language rules.
Phonetic transcription distorts surnames
Unfortunately, following the rules of the Lithuanian grammar and using only the Lithuanian alphabet, the phonetic transcription very often distorts a name and a surname. "If Polish form of a surname will not be sanctioned «on paper», then won't it disappear from the consciousness of the bearers? Especially the people like me whose Lithuanian and Polish versions of a surname cannot be standardized and differs not only graphically, but also in the way they sound. That is why I believe that a double entry of surnames in identity cards would be an optimum solution"—points out during the interview for PL DELFI Irena Masojć, the head of  the Department of Polish Studies and Didactic Methods at Lithuanian University of Educational Sciences. In Polish her surname sounds "Masojć"; however, it is entered into the official documents as "Masojt".
Anyway, the spelling problem relating to names and surnames does not only concern the local Poles. More and more Lithuanians opt for permission to use in surnames letters that do not exist in Lithuanian alphabet because surnames of Lithuanian women who marry foreigners are distorted as well.
Fear of bureaucracy and the environment
Opinions relating to the number of local Poles who would change the spelling of their names as soon as it became possible are divided. It would hardly be a mass phenomenon. The majority of our interviewees on the one hand is afraid of lengthy bureaucratic operations and on the other–has a certain fear of the environment's reaction. "Having gained such a possibility of entering my name and surname into the identity card in Polish, I would certainly not change anything in no time, I would analyse the situation and the reactions occurring in our country. (…) If I changed my personal data, I guess that I would have to apply for rewriting my all documents «once again». In addition, I cannot be sure about, for example, the reaction of my future employer. There is another serious problem—if my close relatives changed their personal data in passports and if I wanted to receive a bequest, then I would have to take the appropriate steps since any different letter in the surname could be really troublesome. However, I support the fact that Poles apply for the right to write their names and surnames in their national language. And not because I want to prove «something to somebody», but I want to see our real surnames not only as an adornment at the gravestones"—said to PL DELFI Dariusz Lewicki, a student of historic preservation and cultural heritage.
Tadeusz Bejnarowicz, a student of the Vilnius branch of the University in Białystok, holds similar opinion–he is also unlikely to change his documents only for this reason. "I have to apply for a job and it is more probable that my potential employer and co-workers will be Lithuanians. Not many Lithuanians will understand our need to write the surname in Polish so they could be discontent (…). We live in Lithuanian territory and thus in some cases we have to adjust"—explained his opinion Bejnarowicz.
Latvian version
A young artist—a graphic designer from Eisiskes, who presently lives in Latvia, Tomasz Jundo told to PL DELFI his incidents relating to the spelling of his name in official documents. "I would not change my passport even if it was possible to write my name in the original way. Yet, I understand people who have problems using their surname in a modified version after moving abroad. Using Polish characters as the basic version in Lithuania seems a bit problematic for practical reasons usually, but I can be wrong. However, it should work as the alternative version, in my opinion.  I named my son, who was born in Riga, Emil. Since under the Latvian law and grammar male names have to end with a letter «s»–my son became Emils. The explanations that he is of Polish descent were of no avail. That is a situation analogous to the one in Lithuania"—pointed out Tomasz Jundo.
Irena Masojć, however, does not understand this apprehension. "Recent events prove that even without a suffix -us it is possible to become a minister or a deputy minister and gain recognition for professional competence, not for the form of the surname.   If anyone wants to represent Polish intellectuals in Lithuania, then this person should become a role model also (or maybe mainly) within a language use."—assures the head of  the Department of Polish Studies and Didactic Methods at Lithuanian University of Educational Sciences.

Source: http://pl.delfi.lt/aktualia/litwa/oryginalna-pisownia-nazwisk-lek-przed-biurokracja-i-reakcja-otoczenia.d?id=61203265
Tłumaczenie Hanna Hołub w ramach praktyk w Europejskiej Fundacji Praw Człowieka, www.efhr.eu. Translated by Hanna Hołub within the framework of a traineeship programme of the European Foundation of Human Rights, www.efhr.eu.