"Stars duets": Niemyćko's duet's at the top of the table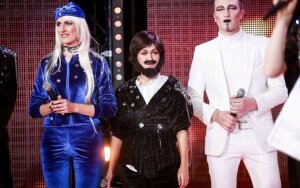 In the next episode of the song contest "Stars duets" ("Žvaigždžių duetai"), "the duet" of Jonas and Pop Ladies performed song "Waterloo" by legendary band "ABBA".
Dressed like a man, Oksana Pikul looked the funniest. She was nicknamed "a dwarf at the piano" by the commission. Pikul herself said in backstage that a fake beard was not the most comfortable ornament, but one is capable of much for the sake of the show whose final is just around the corner.
"The torments" of Pikul paid off. The duet of Jonas and Pop Ladies once again became the leader of the project.
The final table after the votes of the commission and viewers had been counted:
1. Jonas Jonušas and "Pop ladies"
2. Agneta Gabalytė and Rosita Čivilytė
3. Agnė Buškevičiūtė and Justinas Lapatinskas
4. Aistis Mickevičius and Neringa Šiaudikytė
5. Sandra and Saulenė Chlevickaitės
6. Eugenijus Andrulis and Rasa Stoškuvienė
7. Lina Rastokaitė and Egidijus Sipavičius
8. Inga Norkutė and Karolis Akulavičius

Source: http://pl.delfi.lt/rozrywka/duety-gwiazd-duet-niemycko-liderem.d?id=61143963
Tłumaczenie Barbara Rożek w ramach praktyk w Europejskiej Fundacji Praw Człowieka, www.efhr.eu. Translated by Barbara Rożek within the framework of a traineeship programme of the European Foundation of Human Rights, www.efhr.eu.