Tarasiewicz: Polish media in Lithuania dispose of a very short list of subjects for discussion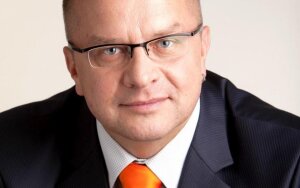 Conflicts are the best sellers in the contemporary media. Reaching agreement is not very popular nowadays, said  at the interview for Polish Journalists Association Stanisław Tarasiewicz, well known Polish journalist, feature writer and social activist in Lithuania.  Polish TV and radio – for example the entertainment program "Summer with the radio" – were defining the trends in Lithuania during Soviet time, added Tarasiewicz.
Have you signed up the civil appeal to the President of Polish TV Juliusz Braun for restoration of the "Wilnoteka"  [Vilnius case] program to the TVP Polonia channel program schedule?
No, I have not.
Do you watch the program?
Very rarely. Television pales into insignificance for me in the contemporary times, it is not much required.
The petition authors emphasize, that TVP Polonia is the only Polish TV station in Lithuania and what disapearance of "Wilnoteka" program means is, that "Poland is abandoning one more time (…) the Lithuanian land culturally and spiritually; our compatriots – preserving Polish identity – are doomed to loneliness and  oblivion". What is the program's influence power in the Vilnius Region?
It is hard to talk about the program's influence power, since no one has conducted any audience rating survey. Some general research results show, that the whole TVP Polonia program audience is only a very small fraction of the viewers number. It might be the only window on the world for Polish point of view for those, who do not read the newspapers, do not listen to the radio and do not have Internet. But it is nearly impossible in Internet era.
Do the defenders of "Wilnoteka" exaggerate?
We could equally appeal to create "Lviv case" or "Kaunas case", as well. It is exaggeration, but not only about the "Wilnoteka" program. We used to sign up almost every year the petitions for broadcasting TVP Polonia in Lithuania, because it was threatened with removal.  Always because of finances. And every time, last minute, the money were found and the agreement was signed. The problem is deeper. "Wilnoteka" became a key point in the money argument between TVP and Ministry of Foreign Affairs [MSZ], in my opinion. The easiest way to say is: there is no money, therefore we remove "Wilnoteka" from  our broadcasting program. There will always be fuss about it. Not long ago MSZ granted TVP with 2 million złoty [PLN], and  the sum became 8 million złoty suddenly.
That is true. MSZ announced last week, that they would give TVP Polonia 8 million złoty, although during last 6 years they had been giving 11 million złoty each year. This is as if MSZ had played cat and mouse with TVP. Nevertheless, the announcement means that there is a chance to keep "Wilnoteka" in the scheduling. However, if it disappears one day what will be the effect on the Poles in Lithuania?
Disappearing of any programs is disadvantageous, but everybody knows, that Polish economy is soft now, therefore the government has to economize. The question is, if it is worth to spend millions on the unprofitable media, which can not attract enough viewers or listeners, just to support themselves. The Polish minority is some 200 thousand of people, living mainly in the Vilnius Region.  With that many of potential readers, viewers and listeners, Polish media, especially the press, could be productive and profitable on the market. Perhaps it would be good to finance creation of the commercial  media on a one-off basis?
It is quite possible, I heard unofficially from TVP, that MSZ will try to influence the changes in the programs financed by them. What is the more economical way of  spending money by MSZ?
This is the good question.  We are grateful to the MSZ for supporting Polish media abroad, especially that the Lithuanian government hardly supports the national minorities' media – which is the case in Western Europe, Poland or Czech Republic. The Polish media in Lithuania can rely only on the MSZ financing. But influencing these media in their choice of what to broadcast, or publish, is a sensitive matter opening a discussion about the freedom of speech. I would rather be uncompromising in my judgment. I understand that Poland  has got its reason of state, but we are not Belarus. The freedom of speech conflict would not be best interest at heart for Poland and it would expose the country immediately. Conflicts are the best sellers in the contemporary media. Reaching agreement is not very popular nowadays.
Is the tabloid culture affecting the Polish media in Lithuania as much as in Poland?
Yes, to a large extent. But they are not like "Super Express" or "Fakt", or the other Lithuanian and Russian tabloids. It is not because the sensation is not selling very well. It is because the information must be short, and available easily . Many photos, short text. We have to work fast and cheap, and at the same time we need to fulfill our mission. And that is why Polish media in Lithuania have very short list of subjects discussed.
Is it not a censorship?
No, it is rather an auto censorship. We do narrow our articles to the Poles in Lithuania and the Polish-Lithuanian relations. Are the Polish media not for …
sex, blood and juicy details from the celebrities life?
You can read all about it in many newspapers, Internet portals, you can watch Lithuanian TV, where the main news start and end up with killing. We do not even take on the all-Lithuanian subjects, because we would not be any better from the Lithuanian media. We very often conclude, that it is better not to take on a subject, if it disturbs someone. That is why we have a short list of discussed subjects.
But do you not agree that the Polish media in Lithuania are out of our time in form and content? The Polish journalist from Germany Agata Lewandowski made a film about the young Poles from the Vilnius Region, who do not watch "Wilnoteka", because they are not interested in politics, and in "talking heads in white collars".
The film is very true, but the problem is not, that we do not know how to publish the modern way. We use vocabulary well-matched with our readers, or viewers, because they are representing the older generation, they are archaic. We lost contact with youngsters, young people are not interested in talking heads on TV, or folk outfit photo in a newspaper. They do not find anything interesting for them in there. This is why they create their own niche websites. But to get out of the archaic ways needs quite a financing, and there is nobody out there to have money for it. So it is easier for us to publish as we do and be supported financially by Poland. But where do we get this way?
This is like we are on the skids. The biggest problem in Poland is expire of paper. Is it the same with you?
Yes, this is like we are on the skids, without doubt. There is less and less of newspapers, since the successive generations stop reading us. We lose to the more competitive Russian media. It is well known, that Poles in Lithuania are very often Russianized, they speak Russian better than Polish and they read Russian newspapers much often, listen to the Russian radio and watch Russian TV. We lose to Russians. Moscow is expanding culturally in Lithuania, and Poland does not do any such thing at all. The Russian media are the window on the world to Poles, since they do not watch Lithuanian media as well. Apart from TVP Polonia, there are no Polish channels in Lithuania, and there are no Polish newspapers at the news-stands. You can buy only the old issues of Polish newspapers in the bookshops.
Are there not "Polityka" ["Politics"], or "Wprost" ["Straight"], or "Gazeta Polska" ["Polish News"] at the newspaper showrooms, there? "Rzeczpospolita" [Res Publica]? "Gazeta Wyborcza" ["Electoral Gazette"]?
No, they are not there. But you can buy the "Komsomol Truth" at the each of Lithuanian news-stand. You can buy "Kurier Wileński" [The Vilnius Messenger"] only and – supposedly – "Angora" very recently.
Do you have a feeling of deja vu?
It is worse. Polish TV and radio – for example the entertainment program "Summer with the radio" – were defining the trends in Lithuania during Soviet time. They were the most popular media. Lithuanians were learning Polish. Today, Lithuanians, Poles and Russians receive mostly the Russian language programs. The same is with using the languages. Russian celebrities and stars visit Vilnius almost every week and show up at the biggest stages. The Polish artists meet only the very limited Polish elite audience.
The article was published first here

Source: http://pl.delfi.lt/opinie/opinie/tarasiewicz-polskie-media-na-litwie-maja-silnie-zawezona-liste-tematow.d?id=61126389#ixzz2VpNSL9kd
Tłumaczenie by Jadwiga Granowska w ramach praktyk w Europejskiej Fundacji Praw Człowieka, www.efhr.eu. Translated by Jadwiga Granowska within the framework of a traineeship programme of the European Foundation of Human Rights, www.efhr.eu.