Trusewicz: We want to discuss a real text not a blank page (Small ethnic groups are afraid of Russian and Polish domination)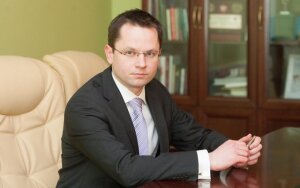 Representatives of smaller ethnic groups and national minorities are concerned that Russians and Poles will dominate other national minorities thanks to the new legislation about national minorities. However, junior minister of culture Edward Trusewicz rejects all allegations. 
A governmental working group prepared an initial project of the new act of law. Vitalijus Karakorskis of Lithuanian Jewish Community (Lietuvos zydu bendruomene) accused the project of mentioning only 15 ethnic groups, he also didn't like the rules of delegating representatives by their respective national minorities to Council of National Minorities (Tautini? bendrij? taryba).
"It is obvious that someone wants to dominate. Russian and Polish representatives who together went to the Seimas will have 10 representatives altogether in the Council. It will be Mr. Tomaszewski's Council." said Karakorskis in an interview for "Lietuvos zinios".
Edward Trusewicz who presides over the working group, rejects these allegations, though. "This is a personal opinion of Mr. Karakorskis. It is influenced by his personal political sympathies and antipathies." Trusewicz told PL DELFI. "It is not an official document nor a project that will be seen by the government and later by the Seimas. It is a draft, because we want to discuss it thoroughly. We want to discuss a real text, not a blank page." explained junior minister.
Edward Trusewicz explained that nothing is final yet. A working group while working on the project based it on european practice and analized the solutions used by respective countries.

Source: http://pl.delfi.lt/aktualia/litwa/trusewicz-chcemy-dyskutowac-nad-konkretnym-tekstem-a-nie-pusta-kartka.d?id=61063021
Tłumaczenie Justyna Kaczmarek w ramach praktyk w Europejskiej Fundacji Praw Człowieka, www.efhr.eu. Translated by Justyna Kaczmarek within the framework of a traineeship programme of the European Foundation of Human Rights, www.efhr.eu.