Kamiński: Soon there will be monitoring next to the Marshal's mausoleum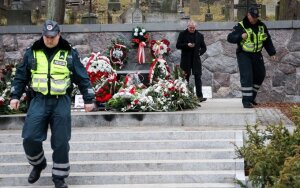 Last year, the mausoleum in the Rasos Cementary where lie Marshal Józef Piłsudski's mother and his heart was twice vandalised. The authorities of Vilnius, together with the Electoral Action of Poles in Lithuania (AWPL), promised that the CCTV system will be installed to monitor the Rasos Cementary.
Last year, talking to PL DELFI Jarosław Kamiński, vice mayor of Vilnius, said that the matter will be dealt with. CCTV system won't be installed earlier than in March. Currently, it's already April, but there is still no monitoring. Kamiński promises that it will appear soon, but this time he didn't mention any specific date.
"It will be soon. There are procedures that we can't disregard. You can't just take money, buy a camera and install it right away. There are procedures we have to follow." vice mayor said to PL DELFI.
In the meantime, a letter to Polish Ministry of Foreign Affairs written by Dr Jarzy Bukowski, the president of the Agreement between Veteran and Independence Organisations (Porozumienie Organizacji Kombatanckich i Niepodległościowych) in Cracow and vice president of All-Poland Federation of Piłsudski's adherents (Ogólnopolska Federacja Piłsudczyków) was published in today's 'Super Express'.
"I would like to kindly ask whether the monitoring next to the tombstone with the heart of Józef Piłsudski in the Rasos Cemetery has been already installed. It was promised by the spokeperson of the Ministry Marcin Bosacki that it will be done until the end of March 2013. (…) People who vandalised the mausoleun are absolutely aware that by doing so they hurt the patriotic feelings of all Poles who cherish it as a symbol of national remembrance. On November 25th a spokeperson of the Ministry told the media that the authorities of Vilnius made a promise to the Polish ambassador in Lintuania Janusz Skolimowski to install CCTV system in the Rasos Cementary until the end of March 2013." wrote Jerzy Bukowski.
In 2012, the mausoleum in Rasos Cementary was vandalised twice. In June 2012 the tombstone was painted with the Columns of Gediminas, and in November somebody put a poster next to the tombstone that said: "If Tomaszewski doesn't stop harming Lithuania, he will lie here." Preparators left also a cardboard box on which they wrote "TNT", "Attention, bomb!" ("Atsargiai, bomba"), "Call the cops" ("Kvieskit mentus"), "Poles will die" ("Lenkai mirs"). The police has shortly captured the alleged preparators.

Source: http://pl.delfi.lt/aktualia/litwa/kaminski-monitoring-przy-mauzoleum-marszalka-juz-wkrotce.d?id=61064439
Tłumaczenie Justyna Kaczmarek w ramach praktyk w Europejskiej Fundacji Praw Człowieka, www.efhr.eu. Translated by Justyna Kaczmarek within the framework of a traineeship programme of the European Foundation of Human Rights, www.efhr.eu.