Vilnius youth commemorated death anniversary of John Paul II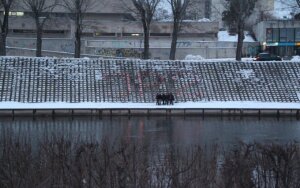 Members of ZPL Vilnius Patriotic Youth club commemorated eighth death anniversary of the Pope John Paul II. 
Young people of Vilnius formed 'JP2' using memorial candles on the riverbank right next to the Green brigde for the second year in a row. They did it in honor of Polish Pople John Paul II who died April 2nd 2005.
"The idea to commemorate Pope John Paul II in such a way was born last year. The tradition started with young people from John Paul II Middle School. This year they joined ZPL Vilnius Patriotic Youth club so we took over the idea." explained to PL DELFI Magdalena Bartoszewicz, the president of  ZPL Vilnius Patriotic Youth club.

Source: http://pl.delfi.lt/kultura/kultura/mlodziez-wilenska-upamietnila-rocznice-smierci-jan-pawla-ii.d?id=61051601
Tłumaczenie Justyna Kaczmarek w ramach praktyk w Europejskiej Fundacji Praw Człowieka, www.efhr.eu. Translated by Justyna Kaczmarek within the framework of a traineeship programme of the European Foundation of Human Rights, www.efhr.eu.