Rev. Stańczyk had to confess at the Police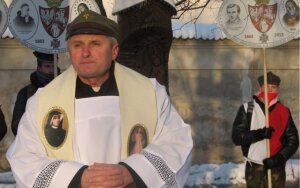 During the 150th anniversary of the September Uprising, rev. Dariusz Stańczyk led the march of freedom "Za wolność naszą i waszą" (For our freedom and yours). The event was organized without the consent of the town's authorities. On the Three Crosses, where a mass was taking place, appeared policemen. Ks. Stańczyk was forced to visit the Police station for explanation.
The March through Vilnius
About 90 people, scouts of Wileński Hufiec Maryi and the juveniles from John Paul's Society and the followers, marched from the Lukinski Square through the Cathedral Square, Piles Kalnas, to the Three Crosses.
I am happy that we can begin our march of freedom from the Lukinski Avenue, where the terrible massacre took place. In the st. Jakub's Church with the scouts we honoured the memory of rev. Stanisław Iszor, who was shot by Muraviov's forces as the first insurgent on June 3, 1863. Under the square there are buried bones of many others, persecuted ones. We honour their leader, Zygmunt Sierakowski, who after the brilliant battles of Poniewieże and Birże, was wounded and taken to Vilnius on May 9, 1963 in order to be later executed. We also honour Konstanty Kalinowski, who was killed on March 10, 1864 on the Lukinski Square. The history of this upraising became an inspiration for the resurrection of Poland and Lithuania. – said rev. Dariusz Stańczyk.
The commemoration was accompanied by Zbigniew Jedziński, the MP from the Polish political fraction in Lithuania.
Poles are a nation that will fight and perish, but never let themselves be taken captive. Having the memory of the fallen, we should always seek freedom – said Jedziński. 
Distinctions on the occasion of the anniversary 
As we are celebrating the anniversary today, we decided to endow three grades to our friends. Harcmistrz Honorowy will go to rev. Antoni Dilys, Podharcmistrz Honorowy will go to Ryszard Jankowski, and Przewodnik Honorowy will to the parson of Łabanów Wędziagoła, Piotr Oskar Wolski. They are peaple of no limitations and give a great example how to live in harmony, peace and love.
About 90 people, after saying the Chaplet of Divine Mercy and singing the national anthem, were carrying the flags of Poland, Lithuania and the Pope, whereas the scouts handled posters, banners, torches and candles.
They reached the Cathedral without obstacles and honoured st. Kazimierz. Afterwards, the march continued through the Piles Kalnas to the Three Crosses.

Source: http://pl.delfi.lt/aktualia/litwa/ks-stanczyk-musial-zlozyc-wyjasnienia-w-policji-w-zwiazku-z-organizowanym-marszem.d?id=60494469
Tłumaczenie Emil Iracki w ramach praktyk w Europejskiej Fundacji Praw Człowieka, www.efhr.eu. Translated by Emil Iracki the framework of a traineeship programme of the European Foundation of Human Rights, www.efhr.eu.