"Inspire – become a leader" leadership training course in the Vilnius Region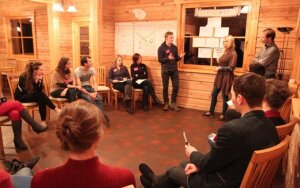 Last week, a two-day leadership training course took place in an agrotourism centre near Vilnius. The course, called "Inspire – become a leader", was taught by Daniel Lichota, an experienced expert, long-standing coach and author of many training programmes concerned with social skills.
"The leadership training course inspired the participants to take new actions, since they had an opportunity to develop their own creativity by drawing up projects. Mutual motivation and friendly atmosphere yielded positive results – a new team was developed together with a new action plan for 2013.  Let's hope that this motivation and determination of the participants will stay with us long after the course and that the newly developed projects will be soon realised."
There were 18 participants in the course and their cooperative efforts were concentrated on team efficiency, namely on defining what it means to belong to a team and how to increase team-playing skills. Thanks to the practical part of the course, the participants had a chance to understand what it means to work as a team, they arrived at shared conclusions and charged one another with positive energy. The first, most intensive, day of the course must have yielded results, for the next day the participants were already able to work on a non-governmental organisation's strategy, process data, create an image and objectives of an organisation, as well as determine a shared vision and develop this year's action plan.

Source: http://pl.delfi.lt/kultura/kultura/zapal-innych-zostan-liderem.d?id=60478087
Tłumaczenie Aleksandra Christ w ramach praktyk w Europejskiej Fundacji Praw Człowieka, www.efhr.eu. Translated by Aleksandra Christ the framework of a traineeship programme of the European Foundation of Human Rights, www.efhr.eu.