Niewierowicz: The nuclear potential of Lithuania is very large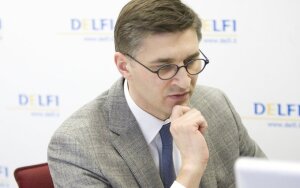 The most important thing to do by Ministry of Power Engineering is to ensure the Lithuania with the engineering independence, said Jarosław Niewierowicz, the new Minister, during the conference on the website DELFI. For almost an hour the Minister answered the questions which were asked by net surfers.
"We would like to finish this year with already having both the National Strategy for Energy and the results about strategic projects" – announced Jarosław Niewierowicz while saying about plans of the Ministry of Power Engineering.
The Minster pointed out that the negotiations with "Gazprom", which is a monopoly when it comes to the supply of gas to Lithuania, are taking place. "Gas prices have the greatest influence on the price of heating. We started to negotiate for reasonable and competitive prices. However, in the same time we work on developing our own power resources, I mean biofuels which are expected to lower gas prices. We are going to promote the projects of Ministry of the Environment in order to begin the process of restoration of the houses as soon as possible" – said Niewierowicz.
The final decision about building a new nuclear power plant will be made after deeper analysis. "The issue is strategic. We created a working group who is going to present proposals for each energy sector. They are going to prepare deep analysis and show us these variants so that we would be able to ensure a competitive, self-reliant and independent energy system in Lithuania. Lithuania nuclear potential is very large, but before making a decision we want to listen to the experts, the public and the political parties "- explained the minister.
When minister is asked where he managed to speak Lithuanian, Niewierowicz says that in Polish school. "I was graduated from Polish school in Lithuania so its level is really high" – claimed Jarosław Niewierowicz.
Jarosław Niewierowicz is an economist, in years 2006 – 2008 he was the Deputy Minister of Foreign Affairs of Lithuania. In the years 2008 – 2012 he was the president of the company LitPolLink, which aims is to create an electricity bridge connecting Poland and Lithuania.

Source: http://pl.delfi.lt/biznes/biznes/niewierowicz-potencjal-atomowy-na-litwie-jest-bardzo-duzy.d?id=60434757#ixzz2IGi1WtTg
Tłumaczenie Diana Omiljaniuk w ramach praktyk w Europejskiej Fundacji Praw Człowieka, www.efhr.eu. Translated by Diana Omiljaniuk the framework of a traineeship programme of the European Foundation of Human Rights, www.efhr.eu.