The Polish accent on the celebrations of the Day of the Freedom Fighters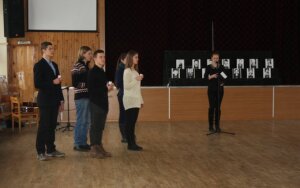 13the January is the Day of the Freedom Fighters. In the whole country the celebrations concerning the events from 22 years ago will be held. In the Parliament a few exhibitions will take place and artistic performances are planned. On Sunday 13th January at 12:35 students from Władysław Syrkomla's secondary school will perform in the Parliament.
"The events of 13th January helped Lithuania gain its independence. Only thanks to the unity of all Lithuanian citizens the independence was won successfully. Especially we, the youth, have to be grateful to the fighters and pay homage to the fallen, we have to be proud and follow their devotion and self-sacrifice. Thanks to them we live in a free country" – said Karol Maracz, a student of 11th grade.
"Last year for the commemoration of the Day of the Freedom Fighters together with our history teachers Maryna Taraszkiewicz and Maria Narkiewicz and with the help of the upper school students we prepared a play commemorating the fallen of 13th January. The signatory of the Independence Act of Lithuania Czesław Okińczyc was invited to the celebration. He liked the performance so much that he turned it into a joke suggesting the performance in the Parliament next year" – told PL DELFI Wiktor Łowczyk, the history teacher.
At the end of  last year Mr Okińczyc phoned the school with the question whether we don't forget about our performance in the Parliament. It was a big surprise for us because we haven't remembered this talk yet. The performance in the Parliament differs from the one in the school assembly hall so we got down to work with double force. Additionally, we prepared a film, there are songs, poems, and short biographies of the fallen." – said  Maryna Taraszkiewicz, the history teacher.
"In the Parliament the MP Jarosław Narkiewicz took care of us. With his help we didn't have any problems with a rehearsal in the Parliament" – added Kowczyk.
After the performance in the Parliament on the next Monday the play is going with an integration visit to the priest Józef Obrembski's Secondary School in Mejszagoła where  the Day of the Freedom Fighters will be celebrated. A part of the performance will commemorate the priest prelate Józef Obrembski.
Source: http://pl.delfi.lt/kultura/kultura/wystawa-poswiecona-powstaniu-styczniowemu-w-wilnie.d?id=60402375
Tłumaczenie Barbara Szydłowska w ramach praktyk w Europejskiej Fundacji Praw Człowieka, www.efhr.eu. Translated by Barbara Szydłowska the framework of a traineeship programme of the European Foundation of Human Rights, www.efhr.eu.