The new government is in favour of the double street names and the original spelling of surnames.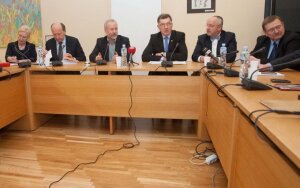 Prime Minister Algordas Butkevičius, together with all the ministers approved by the president, met with the opposition from the conservative fraction.
Butkevičius stated that the number of delegation members reflects the government's readiness to cooperate with the opposition.
During the meeting, Irena Degutienė asked how the new government was going to solve the so-called Polish problems – street names, the spelling of surnames, etc. "Are you sure that it is not unconstitutional?" – asked Degutienė. Juozas Bernatonis, Justice Minister, said that the double street names in towns where a lot of Polish people live, does not violate the constitution. He stressed that the issue of the spelling of surnames is connected with fulfilling the commitments towards Poland.
However, Bernatonis did not propose any concrete solutions. "We will say more when proper projects are prepared," said Justice Minster.
Source: http://pl.delfi.lt/aktualia/litwa/nowy-rzad-za-podwojnym-nazewnictwem-ulic-oraz-oryginalna-pisownia-nazwisk.d?id=60214605
Tłumaczenie Katarzyna Kurowska w ramach praktyk w Europejskiej Fundacji Praw Człowieka, www.efhr.eu. Translated by Katarzyna Kurowska the framework of a traineeship programme of the European Foundation of Human Rights, www.efhr.eu.