Malewicz: "I was treated unfairly." Polish contestant eliminated from a reality show.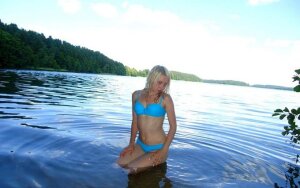 The main issue around which the recent episode of "Radżi searches for wife" ("Radži ieško žmonos") revolved was a scuffle between two contestants – Daiva and a scandalmonger Nijola Malewicz. As a result Nijola was forced to leave the project.
Radżi allowed the viewers to decide who should be eliminated from the programme. The result of viewers' vote was unfavourable for Nijola.
"I was thrown away from the project because I had a fight with Daiva. During the scuffle I lost a ring that Radżi had given me. In my opinion, I was treated unfairly as it was Daiva who shouted 'atidiuok žiedą' ('give back the ring')," said Nijola Malewicz.
The ring was found the day after the incident. Radżi brought it to the next broadcast but he did not return it to Nijola. Instead, she was seated on the so-called hotseat.
By a strange twist of fate, Nijola changed her profile status in on a community website to "in a relationship" after she left the project.
As the would-be bride explains "I'm not Radżi's wife, so maybe I will be appreciated by that man." Nijola did not reveal who her new chosen one was.
 "In the foreseeable future I wish to start a family and find a job. If there are other similar projects, I would like to participate in them on condition that I'm not busy at that time," said Malewicz.
Source: http://pl.delfi.lt/rozrywka/malewicz-postapiono-ze-mna-niesprawiedliwie.d?id=60197039
Tłumaczenie Patrycja Olszówka w ramach praktyk w Europejskiej Fundacji Praw Człowieka, www.efhr.eu. Translated by Patrycja Olszówka the framework of a traineeship programme of the European Foundation of Human Rights, www.efhr.eu.