'Cause it's fun with us a charity action of "Pulaków z Wilni"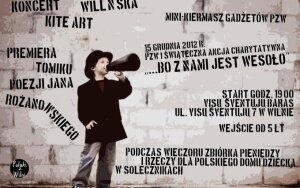 Next Saturday (December 15) participants of a Facebook page "Pulaki z Wilni" [Poles form Vilnius], who virtually constitute a Vilnius internet movement, are organizing a charity action for the orphanage in Šalčininkai. During the event a début volume of Jan Różanowski's poetry is going to be presented. The event is held in one of Vilnius pubs "Visų Šventųjų Baras" at 7 pm.
"The idea to organize the charity action "… 'cause it's fun with us" was born spontaneously. For quite some time our fans have wanted to organize a live meeting. It's also their initiative. It was also our fans who hit on an idea for publishing the volume of Jan's poetry" – Ewelina Mokrzecka, who manages the page "Pulaki z Wilni", said for PL DELFI.
Over the past year Jan Różanowski has become a true poetic "celebrity" in the Vilnius Internet. "The idea to publish my poems was born after the first attempts at posting my rhymes on the 'PzW' blog. I've realised that my personal sense of humour in properly rhymed texts is very close to Vilnius readers and ex-residents of Vilnius dispersed around the world. If I remember correctly, the first rhymes got a lot of "likes" and in comments the readers posted such a question: When will the volume of funny rhymes appear? In a word, I answered the expectations of my readers." said the début poet. The artist stressed that he could not predict the reaction to his poems in the real life. "Nowadays, people tend to read jokes, puns, funny texts in the Internet, they laugh and immediately forget about them. And the texts printed on paper… hmm… We'll see, I'm curious as well." said Różanowski.
What distinguishes Różanowski form other Vilnius poets is the fact that he writes in the local Vilnius dialect. "The poems are written in Polish but in the Northern Borderland dialect. Some people may not agree with this statement because you can find a lot of elements of Russianism and Lithuanism. However, this our modern dialect is specific because it has many linguistic elements borrowed form other languages. I didn't create any artificial language but tried to use words that are present in our everyday life. Personally, I try not to use so many Russian borrowings as an ordinary Pole form Vilnius or form somewhere around the city but we can't get rid of them completely. It is a living language that is constantly generating new words and terms." explained the poet.
"'Kite Art' and 'Will'n'Ska', young independent rock bands form Vilnius, will give a concert during the event. They represent Vilnius indie movement and definitely deserve our attention. They will be a surprise for the audience." said Ewelina Mokrzecka.
The money collected during the concert will be given to Polish orphanage in Šalčininkai. The organisers inform that presents for children are welcomed as well. In the orphanage in Šalčininkai there are 36 children at the age of between 3 and 18. They are orphans and children from Polish pathological families who attend kindergartens and schools in Šalčininkai.
Source: http://pl.delfi.lt/kultura/kultura/bo-z-nami-jest-wesolo.d?id=60154631
Tłumaczenie Karolina Rolka w ramach praktyk w Europejskiej Fundacji Praw Człowieka, www.efhr.eu. Translated by Karolina Rolka the framework of a traineeship programme of the European Foundation of Human Rights, www.efhr.eu.