Conference: Lithuanian Poles or Poles in Lithuania?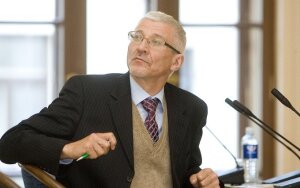 The Association of Polish Scientists in Lithuania and The University of Bialystok branch in Vilnius invite you to the international conference in the series "The Vilnius region yesterday, today, tomorrow" entitled "Lithuanian Poles or Poles in Lithuania? The Issues of National Identity (XIX – XXI century)".  
"The aim of the conference is to discuss the scientific facts about the history, concepts and circumstances in which the formation of national identity of Poles living in Lithuania took place.  We will also deal with the question of the national identity in relation to a particular territory" – said to PL DELFI  the chairman of  the Association, prof. Bogusław Grużewski.
"Pursuing the aim we want to focus on the political, economic and cultural factors that influence the development of consciousness and history of Poles in Lithuania. The participants will share their opinions in light of  the newest achievements. One of the main issues addressed at the conference will be the contemporary Polish identity. The other – the question of how Polishness is viewed  in  the private sphere and among individuals. Several papers will be devoted to the analysis of  the contemporary understanding of Michał Romer's, Antoni Wiwulski's, Stanisław Narutowicz's views, objective assessment of attitude towards Poles in Lithuania among particular social groups" – stressed the professor.
The conference will be held under the auspices of the Polish ambassador to the Republic of Lithuania – Janusz Skolimowski.
It will take place on September 27, 2012 in the Palace of Pac. 
Source: http://pl.delfi.lt/aktualia/litwa/konferencja-polacy-litewscy-czy-polacy-na-litwie.d?id=59497173
Tłumaczenie Milena Jajkowska w ramach praktyk w Europejskiej Fundacji Praw Człowieka, www.efhr.eu. Translated by Milena Jajkowska within the framework of a traineeship programme of the European Foundation of Human Rights, www.efhr.eu.