Narkiewicz and Skakowska decorated with the Golden Cross from Związek Piłsudczyków. "Common people work for the laurels given to leaders".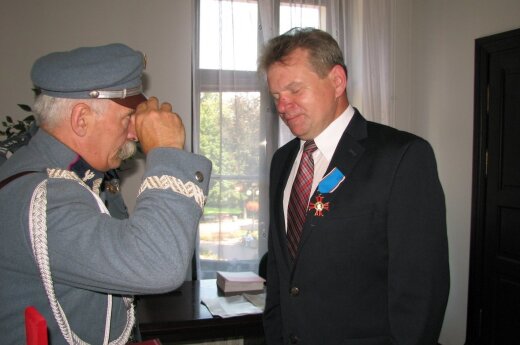 During the Festival of the Kresy Culture, Związek Piłsudczyków (an all-Polish association which main purpose is to cultivate Józef Piłsudski's ideals) decorated the deserving people, including the vice-chairman of the Seimas Jarosław Narkiewicz and the president of the Stanisław Moniuszko Culture Centre, Apolonia Skakowska, with Golden Crosses.
"It was a surprise. This is a tribute to all of the work done by our community, to all the Poles in Lithuania, to our representatives and also a sign of trust", spoke Jarosław Narkiewicz for PL DELFI.
"In life it is always like that: common people work for the laurels given to leaders. It is hard to know 200 thousands of Poles. There is a visible lens that focuses all their efforts and it is completely natural". This is how the president of Związek Piłsudczyków RP, Stanisław Władysław Śliwa, explained their choice to PL DELFI.
"I'm feeling like a Pole, who grasped and still understands the ideals of our great leader Józef Piłsudski, should", said Apolonia Skakowska for PL DELFI.
Translated by Marcin Wus within the framework of a traineeship programme of the European Foundation of Human Rights, www.efhr.eu.