Poles in Lithuania join the March devoted to the 25th anniversary of Regaining the Independence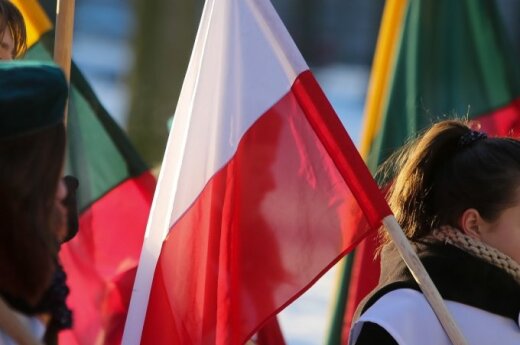 On the 11th of March, Lithuania celebrates the 25th anniversary of Regaining the Independence. At 12 o'clock there is going to be an official march from the Parliament to the Cathedral Square. A group of the Lithuanian Poles is planning to join the march as well.
"25 years ago Lithuania regained the independence. Among the signers of the Act of the Revival of the Independent Lithuania on the 11th of March 1990 were four Poles. Hence, it is OUR COMMON celebration. We invite all the Poles and Lithuanians, who think that way, to join the march as a part of the official Independence March, which will go through the Gediminas Avenue on the 11th of March at 12:30 p.m. We will meet at noon by the "Maxima" store, opposite to the Seimas of the Republic of Lithuania (Gediminas Avenue 64). One should have Polish, Lithuanian or the Grand Duchy of Lithuania flags with him or herself, and be dressed smartly" – reads the description of the event on Facebook.
Currently, there are 45 people who declared they would join the march.
"It was a spontaneous decision and a proof that the Lithuanian Poles opt for the free and democratic motherland. Free and independent Lithuania is a natural thing for us, and that is how a significant part of the Lithuanian Poles feels about it. Our friends asked if we, the Polish people, celebrate the 11th of March. Yes we do, but we always do it individually, and have never organized any parades – I answered. The idea was rightly developed by the friend, lawyer and publicist Aleksander Radczenko, who proposed to organize the march as a part of the national Independence March. Soon after, the idea was spread on the Internet, and we hope that tomorrow there are going to be a lot of us. The march will be attended by both the Lithuanian Poles and the citizens of the Republic of Poland. It is a symbolic little gesture of solidarity; it is the first step which, we hope, will restore the Polish-Lithuanian friendly relations" – said the organizer, Renata Underis, to PL DELFI.
Translated by Tomasz Szatkowski within the framework of a traineeship programme of the European Foundation of Human Rights, www.efhr.eu.