"People obliging, in heart innocent…", that is the 25th anniversary of the Vilnius unit of the UPL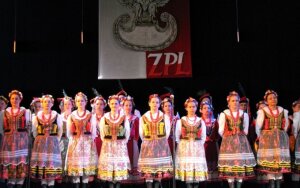 In the second day of the feasts, the Vilnius unit of the Union of Poles in Lithuania celebrated its 25th anniversary.
Before the concert, at which performed Vilnius bands: Wilia, Hundred of Smiles, Wilenka, Fair Maiden from Switez, Gregorians, Polish Theatrical Studio in Vilnius, the conference devoted to celebrations of the anniversary had took place. During the concert, the chairwoman of the Vilnius UPL Alicja Pietrowicz handed the certificates of appreciation to the most deserving.
"Within 25 years we have been fighting for Polish education in Lithuania, original spelling of the surnames, bilingual naming of streets, land restoration, but unfortunately the fight is still lasting and these issues will stay the priorities of the activity of our unit and whole UPL. Let's keep our achievements for the next years and care with everyday work and social activity to bring the Polishness into being always present." – said Pietrowicz.
Also the MEP, a candidate for the President, the leader of the Lithuanian Poles Electoral Action Waldemar Tomaszewski came out in front of the gathered.
"We are a good example for other nationalities of how ones should act in union for a mutual good. Unity is our main feature which leads to our successes and achievements. Not everything is good, like land restoration which is our main failure during these 25 years. The forces are not equal, it is hard to compete with the state machine for 7 percent of society. The anniversary is a good opportunity to determine plans for the future. Our main task will be keeping what we achieved with mutual work. It makes happy that the percent of Polish students has increased recently, so we have to maintain it, thinking that the borders will be opened for the Eastern Vilnius Region, which currently belongs to Belarus. Then, our community of the Western Vilnius Region along with the Eastern Vilnius Region in connection with Dyneburg will be counting about half million people. We have to make our countrymen encounter with Polish schools which we defended" – said Tomaszewski.
The performance of actresses from Jolanta Griniewicz's and Monika Jodko's Polish Theatrical Studio has finished the brilliant party. The last song "I do have luck", which Monika has sung along with the band Wilia, summed up the party and 25 years of the Union of Poles in Lithuania activity in an ideal way.
Source: http://pl.delfi.lt/kultura/kultura/ludzie-uczynni-w-sercach-niewinni-czyli-25-lecie-wilenskiego-oddzialu-zpl.d?id=64602911
Tłumaczenie by Małgorzata Bigoraj w ramach praktyk w Europejskiej Fundacji Praw Człowieka, www.efhr.eu. Translated by Małgorzata Bigoraj within the framework of a traineeship programme of the European Foundation of Human Rights, www.efhr.eu.