"This is me, all of me". The varnishing day of Wanda Rodowicz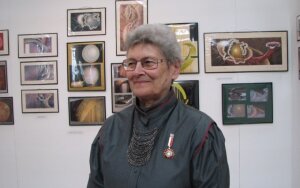 In a Polish cultural centre in Vilnius took place the varnishing day of Wanda Rodowicz exhibition. Ambassadors of Poland and Ukraine, politicians, representatives of art from Lithuania and Poland and art lovers grace the party with their presence.
"This is me, all of me", Wanda Rodowicz shortly and meaningfully opened her varnishing day.
Rodowicz line is scattered throughout the world. In Poland, its brightest members are singer Maryla Rodowicz and Wanda Rodowicz. In Lithuania, the line is represented by the community activist Žilvinas Radavičius.
"Wanda Rodowicz varnishing day is a festival of friendship between countries. Nowadays, when Polish-Lithuanian relation are not the best and Lithuanian press foments conflict by presenting only negative informations, this party is by all means well-timed. Party, which connects people from Poland, Lithuania, Ukraine, Russia, just like our line connects them all", said Žilvinas Radavičius.
Ambassador of Ukraine Walerij Żowtenko reminded that this varnishing day occurs in a sad moment for Poland, in the day of Smolensk tragedy, and informed that in Ukraine in Volhynia there is a locality called Rodowicze.
"The God gives some people skill of picking notes and setting music, others pick words and create texts. He allows some people to prove themselves in handiwork. Today amongst us is person, who connected most of those skills. Mrs Wanda creates wonderful things. This is the festival of Rodowicz and Radavičius line, this is the festival of Vilnius", said Jarosław Czubiński, Ambassador of Poland in Vilnius.
Everyone was surprised by the Ombudsman for Children, Marek Michalak, who on behalf of the Minister of Culture and the National Heritage of Poland, Bogdan Zdrojewski, handed the "Medal for Merit to the Polish Culture" to Wanda Rodowicz and emphasised that Wanda Rodowicz celebrates in this year a jubilee of her artwork.
"I did not expect such brooch", the artist joked.
Party ended with the performance of the Renaissance art band, Puelli Vilnensis.
Source: http://pl.delfi.lt/kultura/kultura/to-jestem-cala-ja-wernisaz-wandy-rodowicz.d?id=64506188
Tłumaczenie by Beata Kanadys w ramach praktyk w Europejskiej Fundacji Praw Człowieka, www.efhr.eu. Translated by Beata Kanadys within the framework of a traineeship programme of the European Foundation of Human Rights, www.efhr.eu.