Juozas Bernatonis: the Pole's Card is a problem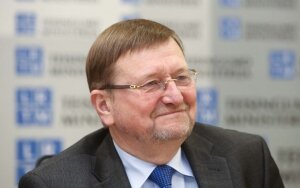 The Pole's Card is a commitment to the other state and creates problems for candidates for president, declared the Justice Minister Juozas Bernatonis.
"My opinion, the same as most of lawyers, is that the Pole's Card is a commitment to the other state. If such specific commitments exist, and even it is envisioned for what kind of behaviour those privileges can be taken, that means a direct relationship," said the Justice Minister during a governmental hour in the Sejm.
Bernatonis emphasised that the Pole's Card can be assessed only by the Constitutional Court, and that is why he asked to treat the above sentence as a statament of a lawyer and not as a statement of a minister.
"Problem appears in a context of both presidential and Sejm elections. There are no problems in a context of the elections to the European Parliament and the local governments because it is a commitment to other country of the European Union", minister considered.
Bernatonis regretted that it did not work out in the case of the Pole's Card to turn to the Constitutional Court sooner.
"It is a shame that the issue of the Pole's Card did not get to the Constitutional Court because only this institution has enough jurisdictions to evaluate this document. I would also like to ask not to politicise my statement, for I spoke as a lawyer. I cannot evaluate this problem as a minister of justice", he explained.
Probably only one of the candidates for president,the leader of the Electoral Action of Poles in Lithuania Waldemar Tomaszewski, owns the Pole's Card.
Source: http://pl.delfi.lt/aktualia/litwa/juozas-bernatonis-karta-polaka-jest-problemem.d?id=64502018
Tłumaczenie by Beata Kanadys w ramach praktyk w Europejskiej Fundacji Praw Człowieka, www.efhr.eu. Translated by Beata Kanadys within the framework of a traineeship programme of the European Foundation of Human Rights, www.efhr.eu.