Lithuanian politicians: Tomaszewski causes a lot of harm to our relationships with Poland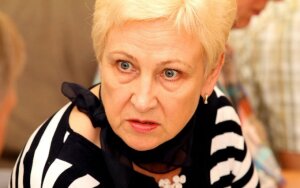 After Polish Sejm delgation visited Lithuania, Lithuanian politics commentated on the situation of Poles in Lithuania. Waldemar Tomaszewski, the leader of Electoral Action of Poles in Lithuania, was criticised the most.
"We cannot defend Daszkiewicz reputation today, but we will do this step tomorrow. If even at home we were prohibited from talking in our mother tongue, it is probable, that soon also at the cemetery we will be prohibited from talking. As I said, all borders were crossed and we are determined to defend our rights. But we need help from Poland, from our motherland", Tomaszewski said.
"The lack of a bill concerning ethnic minorities breaks the laws of those minorities", Cezary Garbarczyk, vice chairman of Polish Sejm commentated on the situation of Poles in Lithuania.
Lithuanian politicians directly attacked Tomaszewski accusing him of fueling Polish-Lithuanian conflict.
"Provocative tone and demands – we hear Tomaszewski all the time. However, when comes a delegation from Poland, his tone changes and it is obvious to everyone that mister Tomaszewski is not a self-reliant politician. He executes some orders and it causes a lot of harm to our relationships with Poland", Irena Degutienė, Blimp and vice chairman of the Sejm said.
Previous Justice Minister, liberal Remigijus Šimašius, has similar opinion. He commentated on the last events on his social profile.
"I think that Waldemar Tomaszewski, the inciter of national disagreements, is the one who keeps his hands warm thanks to this bonfire of problems and he is the biggest obstacle, which prevents from solving problems of ethnic minorities in Lithuania. Thanks to him, Lithuanian and Polish nationalists become radicalised. Thanks to him, nationalists begin to dance to the Kremlin's tune. Waldemar, if you want Polish-language citizens of Lithuania to feel good in Lithuania, you must change your rhetoric and the way you act", Šimašius wrote.
Jarosław Narkiewicz, vice chairman of the Sejm, has different opinion. He suspects that "some powers" are responsible of this national hatred incitement.
"Perhaps, there are some powers, which do not come from The Association of Poles in Lithuania or Electoral Action of Poles in Lithuania and which want to make our countries fight or excite conflict. We understand this and we will not yield the provocations", said Narkiewicz.
Source: http://pl.delfi.lt/aktualia/litwa/litewscy-politycy-to-tomaszewski-szkodzi-naszym-stosunkom-z-polska.d?id=64373398

Tłumaczenie by Beata Kanadys w ramach praktyk w Europejskiej Fundacji Praw Człowieka, www.efhr.eu. Translated by Beata Kanadys within the framework of a traineeship programme of the European Foundation of Human Rights, www.efhr.eu.