Waldemar Tomaszewski refused to meet with the officials of the security forces. "The Stalinist times got back"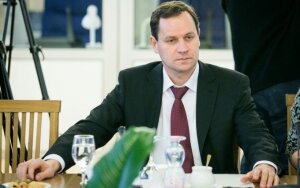 Gediminas Grina, the general director of State Security Department, during his speech in Sejm confirmed that Waldemar Tomaszewski, leader of Electoral Action of Poles in Lithuania, refused to meet with the officials of the security forces.
Grina said that Department wanted to warn Tomaszewski that he could find himself in the zone of bad influences and regretted that Tomaszewski refused to meet. Director of the security forces could not name the specific date; he defined it as "before a month".
"We have tried to talk whether someone has an influence on him, we are always interested when a person disappears somewhere", Grina explained without getting down to brass tacks.
The head of security forces explained that Department warns people who find themselves in the zone of bad influences, but by no means it can be penalised, because it is not a crime.
"It is a shame that Tomaszewski did not want to meet with our official", Grina regretted.
Tomaszewski explained that he refused to meet, because he was afraid of provocation.
"That is not true. Person who called me did not even introduce himself so I had to ask who he is. He introduced himself as some kind of a Petrauskas, a specialist, and he said that he wanted to meet and that it was not a discourse which could take place via a phone. I had suspicions that he is a provocateur, so he proposed to take actions in accordance with the law. I finally said that if their boss Grina wanted to meet me, I would find time for him. Grina did not call me", Tomaszewski explained the affair.
Reports of the Department were called fiasco by MEP. He confirmed that he was in Moscow in 2012, but not because of the politics purposes. He was with his family in one of the healing institutions.
"As you well know, we do not cooperate with Association of Russians; this is a partner of the Labour party. When it comes to my stay in Moscow – yes, it was one day with my family in Moscow. We were in clinic, where our baby was treated. This is stalking, the Stalinist times got back", Tomaszewski resented.
Source: http://pl.delfi.lt/aktualia/litwa/waldemar-tomaszewski-odmowil-spotkania-z-funkcjonariuszem-bezpieki-wrocily-czasy-stalinowskie.d?id=64366078

Tłumaczenie by Beata Kanadys w ramach praktyk w Europejskiej Fundacji Praw Człowieka, www.efhr.eu. Translated by Beata Kanadys within the framework of a traineeship programme of the European Foundation of Human Rights, www.efhr.eu.