Switch Poland on! before you apply to Polish University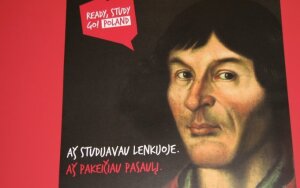 International Knowledge, Education and Career Fair "Studia 2014" is an opportunity for the youth to learn how the possibilities of planning their career as well as learning process are at many universities which take part in the fair. Those universities encourage potential candidates to apply to their departments. Among those universities, there are also Polish ones.
It is a great place to study for many young people. The youth, especially those who come from Poland, wish to study there and they make their efforts to achieve their goals.
Now, they are preparing for the exams to get a scholarship for studies in Poland. They also have to gain knowledge on how to cope with study time. However, they have may ask for help, for instance, their teachers who organize extra courses such as School Place of Native Subjects in Vilnius.
Courses for candidates who want to study at Polish universities Switch Poland on! – is a series of classes which aim is to prepare students from the highest classes for both the exam for getting a scholarship to study at the university in Poland and gaining the ability to easily cope with the education reality in contemporary Poland.
Natalia Barcz and Sebastian Nowakowski, teachers who prepare the courses and are from School Place of Native Subjects, were sent to the Centre of the Development of Polish Education Abroad. They stress that the participation in the courses give students a chance to make curricular difference between Polish and Lithuanian education systems complete, to improve their knowledge on culture, literature, political life of contemporary Poland and their reasons. "It is very important, they emphasize, to teach candidates about conditions of living in Poland and it is the reason why they learn Polish, History, Social Studies and Geography".
The Internet book Switch Poland on! is very useful for the course – educational materials for Polish studies abroad.
The classes take place at the department of School Place of Native Subjects in Vilnius, Pylimo Street 50, each Thursday at 4.30 p.m. Teachers sent to methodological work in Lithuania by The Centre of Polish Education Abroad have the classes.
School Place of Native Subjects is:
–          a Polish educational centre, in which there is a methodological centre and the reading room. This Centre works to make Polish language, Polish contemporary culture and literature for both children and the youth common. There are also educational projects, lectures and workshops for students, teachers and parents.
–          a Polish school which aim is to make knowledge complete and execute the programme prepared on the basis of base educational programme for Polish students abroad. It was prepared by Departure of Education and Science RP. The students of the school are taught native subjects, such as Polish, studies on Poland (History, Geography and Social Studies). The classes are addressed to groups of different age 6-9, 10-13 and 14-19.
Source: http://pl.delfi.lt/aktualia/litwa/wlacz-polske-zanim-wstapisz-na-polska-uczelnie.d?id=63951508
Tłumaczenie by Anna Kwiatkowska w ramach praktyk w Europejskiej Fundacji Praw Człowieka, www.efhr.eu. Translated by Anna Kwiatkowska within the framework of a traineeship programme of the European Foundation of Human Rights, www.efhr.eu.