The caricature of Apolonia Skakowska in two minutes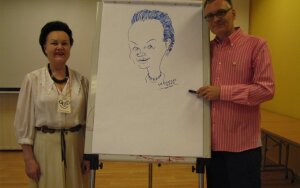 In celebration of the XX anniversary of its existence the Polish Culture in Lithuania Centre by the name of Stanislaw Moniuszko invited the famous drawer and caricaturist Szczepan Sadurski. One can see the exhibition of his satirical drawings in the House of Polish Culture in Vilnius.
Sadurski's drawings are characterized by a great, and at the same time subtle sense of humor. He debuted on his eighteenth birthday when his first drawings were published by "Pins" (originally "Szpilki") a reputable magazine. In the second half of the 80's he became the most frequently published drawer of the magazine. He was awarded the Golden Pin in the 1986 and the Silver Pin in 1985.
During a press conference the satirist offered to draw a caricature of Mrs. President Apolonia Skakowska – she willingly accepted. Sadurski is known as one of the fastest drawers, and that is why the caricature of Skakowska was finished in less than two minutes.
"I am not disturbed by people checking up on me, I am not ashamed by videocameras or cameras. Not once I have been drawing live on television. I have immunity for cameras" joked Sadurski for PL DELFI.
Szczepan Sadurski is a founder of "Good Humor Party" a group that holds more than 3.5k members from all over the world. The journalists who took part in the given press conference were solemnly admitted as members of the party. It is worth noting that the membership fee is very low – only three smiles a day.
During the exhibition every visitor was welcomed to join the party. The caricaturists exhibition will run until the 28th May.
The objectives of the party and an interview with Sadurski will be available soon on PL DELFI.
Source: http://pl.delfi.lt/kultura/kultura/karykatura-apolonii-skakowskiej-w-2-minuty.d?id=61368019
Tłumaczenie by Jadwiga Granowska w ramach praktyk w Europejskiej Fundacji Praw Człowieka, www.efhr.eu. Translated by Jadwiga Granowska within the framework of a traineeship programme of the European Foundation of Human Rights, www.efhr.eu.