Celebrities used to be students as well (Saszenko, Niemyćko, Sinicki about meetings with old classmates)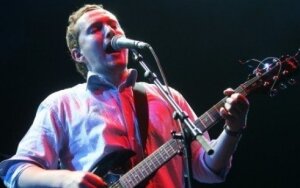 Traditionally, February is a month of senior proms and homecomings. Television celebrities used to be students as well. Today, they meet with their old classmates. 
Asked by PL DELFI, Poles of Lithuanian show business unanimously admitted that meetings with old classmates were a nice custom. Unfortunately, their professional careers are extremely demanding and sometimes they are not able to participate in such a meeting.
If I have some free time, I always go 
"If I have some free time and an opportunity, I always visit my old school in Rūdiškės and participate in a senior prom or homecoming. My relationship with classmates has not changed. It's our life that has changed. Most of my friends have wives, husbands, even children, so it's not so easy to go and party after a meeting in school", said Ewelina Saszenko, a singer.
Tomasz Sinicki, a singer, also admitted that he did not have much free time to meet with his classmates. "Seldom do I participate in such meetings, but it is a nice custom. Seldom do I participate in such parties because seldom am I in Lithuania. Since I graduated from school ten or twelve years ago, I have participated in maybe two such meetings", said Tomasz Sinicki, an ex-frontman of a rock band "Gravel". He does not maintain a steady contact with his classmates. "I maintain contact with some of my classmates, but they are usually those with whom I work", stressed the musician.
If I do not organize such a meeting, no one will do 
Katarzyna Niemyćko, who we have recently seen in several television shows, rarely participates in homecomings. "Unfortunately, it's been a while since I participated in a homecoming. Such parties are usually held on Fridays or Saturdays and recently, I have always had some concert, rehearsal or recording during weekends. Last time I participated in the 10th anniversary of school graduation six years ago. During my school days I was always in a group of organizers, so if I do not organize such a meeting, no one will do. Because of huge amount of work in television I do not have time to organize a class meeting", explained Niemyćko.
Attitude of classmates 
Ewelina Saszenko and Katarzyna Niemyćko admitted that during class meetings no one asked them to sing. The attitude of their classmates towards them has not changed. "Sometimes I am willing to participate in an event as an ordinary guest, however, I know my character and probably I wouldn't be able to sit calmly among the audience. My heart and soul want to be on the stage", said Niemyćko.
Tomasz Sinicki does not think that popularity has influenced his surrounding or friends. "No, I haven't noticed any change in the attitude of my friends. Probably all of them understand that we don't really change", added Sinicki.
Source: http://pl.delfi.lt/kultura/kultura/gwiazdy-rowniez-chodzily-do-szkoly.d?id=60552749
Tłumaczenie Karolina Rolka w ramach praktyk w Europejskiej Fundacji Praw Człowieka, www.efhr.eu. Translated by Karolina Rolka the framework of a traineeship programme of the European Foundation of Human Rights, www.efhr.eu.