New Year's Concert of Todes Vilnius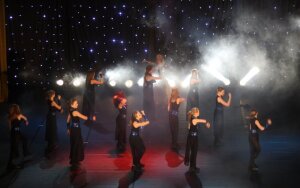 The dancing group Todes Vilnius has finished its last 12 months by giving a New Year's concert that took place in the Children and Youth Centre in Vilnius. The audience had the chance to observe 20 dancers whose performance's main theme was the fairy tale of the Prince and Princess.
It was our New Year's concert. At the beginning, we presented a fragment from the Czajkowski's ballet "Nutcracker", and then we proceeded to the new program called "Visiting a Tale". The concerts guest was the circus group "Smile" – described PL DELFI Artūrs Ravinskis, the manager and choreographer of Todes Vilnius.
Todes Vilnius is a group affiliated with the Russian show-ballet of Alla Duhova – Todes. It is well-known in the world and famous for its unique dancing and choreographic talents. Therefore, the constant manager and founder of the international-level group, Alla Duhowa, is often called "Lady Perfection". Todes performs all over the world, in many cities there are its schools functioning. The group has also established its own beauty shop and clothing collection.
The Lithuanian branch of the Todes gorup has got two training grounds, in Vilnius and Jašiūnai. We have practically no age limit for our candidates – there are 5-year-old children dancing for us as well as their mothers, whose age I can't reveal. Everyone may come to us and dance freely. Our group is quite multinational, we have many Poles, Lithuanians, Russians as our members – we are open to all those who love dancing, regardless of their age, nationality, religion or skin colour – told Ravinskis.
Six years ago, I danced in Todes, however, for certain reasons I had to resign from the trainings and concerts. Then, I was replaced by my daughter, Kasia, who has been now dancing there for four years, and this year I myself returned to the group and we are performing even with the same numbers. Todes gives me the time for myself, it is something that makes me satisfied, which I didn't obtain as a child. – said PL DELFI Renata Kratkowska-Guszcza, a dancer of the Todes group and a manager of the West Europe's departament in a logistics company.

Source: http://pl.delfi.lt/rozrywka/koncert-noworoczny-zespolu-todes-vilnius.d?id=60297293
Tłumaczenie Emil Iracki w ramach praktyk w Europejskiej Fundacji Praw Człowieka, www.efhr.eu. Translated by Karolina Jasińska the framework of a traineeship programme of the European Foundation of Human Rights, www.efhr.eu.