Following Jan Bułhak's Footsteps Through Vilnius and Masuria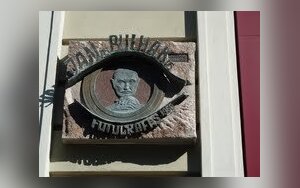 Polish Art Gallery "Znad Willi" invites to see an exhibition Following Jan Bułhak's Footsteps Through Vilnius and Masuria (Vilnius-Olsztyn). The exhibition opens on December 5 at 5 pm. It can be seen until January 5.
"This is my last treasure – I won't let it be snatched from me. In the face of universal destruction I want to keep this treasure as long as possible. I want to bring it back at its best in spate of today's reproach. I want to fight to the bitter end with the death brought by destruction and oblivion," wrote Jan Bułhak in January 1940.
Last year in August, ten lovers of Jan Bułhak's photographic works visited Vilnius, Lentvaris, Traku Voke and Trakai with Uztrakai. The idea was to set the camera in the place where the master Jan Bułhak stood with his camera. After returning from Vilnius they went to Warmia and Masuria's towns which were visited by Jan Bułhak in the 40s of the 20th century. Out of many art photographs from Warmia and Masuria's towns for the Vilnius exhibition were chosen those from Olsztyn, the meeting place of Vilnius generations.
The exhibition would not open in Vilnius if it wasn't for the Photography Lovers Group from the Third Ace Academy and the Society of Friends of Vilnius and Vilnius District in Olsztyn.
Jan Brunon Bułhak is a distinguished polish photographer. He is also a philosopher and theorist of photography. He was the founder of the Vilnius Photo Club and a co-founder of Polish Photo Club. Since 1919 he thought at the Institute of Artistic Photography at the Faculty of Fine Arts of the Stefan Batory University in Vilnius. He made a photographic report of the architecture of Vilnius, Warsaw, Krakow, Grodno, Zamość, Lublin, Kazimiesz and other places. There were 158 albums created in his studio. They are devoted to the towns and regions of the Second Polish Republic. In July 1944, during the battle of Vilnius his studio was burned down. Inside there were 50,000 catalogued negatives relating to Vilnius and Vilnius region.
After World War II, he and his son documented the destruction of many Polish cities. He started from Vilnius, the destruction of which deeply affected him. After repatriation to Poland he photographed also other cities. He was a co-founder of the Union of Polish Art Photographers, which was established in 1947. His membership card of the Union had number 1.
Source: http://pl.delfi.lt/kultura/kultura/wilensko-mazurskimi-sladami-jana-bulhaka.d?id=60143549
Tłumaczenie Monika Rak w ramach praktyk w Europejskiej Fundacji Praw Człowieka, www.efhr.eu. Translated by Monika Rak the framework of a traineeship programme of the European Foundation of Human Rights, www.efhr.eu.