Andrzej Zujewicz from Ejszyszek released solo album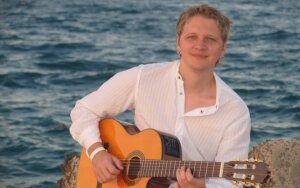 Very well-known guitar player, a Pole from Eszyszki Andrzej Zujewicz released its own solo album titled: Albedo. In the past Zujewicz was co-operating with Ewelina Saszenko and with a band  4fun. With that band he represented Lithuanian in the contest of Eurovision in Helsinki with that band
"When I was playing my solo concerts, someone asked me if I have some CD. After that I have decided to release one. I released one unofficially. In Maxima you are not going to find it. I can only sell it by myself or give as a gift to someone" –said Andrzej Zujewicz to PL DELFI
On the album there are 10 instrumental songs. "It is expression and very instrumental music there is no any vocal in here. I thought that there is no instrumental, guitar  music on the market" – explained Zujewicz.
On the debit album was recorded  the first part of the concert of Anrzej ZUjewicz. The musician has in plans, releasing the second album where it will be the second part of the concert. Second album has its date of release is in the beginning of the next year because it is very expensive to do. "For me it was a cost of 1000 Lits for to record one song. But most of the work was made by my friends. When I was talking with one of the music producers he said it might be a cost of even three thousands lits for one song"  – explained Zujewicz
Earlier Andrzej Zujewicz was co-operating with Ewelina Saszenka, in 2007 he represented Lithuania with the band 4 fun on Eurovision in Finland. He has also the title of the best guitarist player in the age group up to 25. But he surrendered form working with bands  because he wanted to play solo. Also, he established the project called Albedo Coeli. " The name is not a coincidence. One day my friend brought a dictiorny of Latin. First word , which I saw was albeda which means white. I really liked it. After that I added Coeli which means sky. All of the names of the songs on my album are in Latin as well." Said musician.
Zujewicz said that the instrumental music is not so popular in Lithuania, but people like to listen to guitar music. It is easier to record this kind of music than play it on the concert." I need at least 7 musicians on the concert, but how many concerts will we play? One in a year. There is not going to be money out of that" – said Musician. But he is not surrendering form concerts,  he is planning that after the second album he is going to make a concert route. He believes that this kind of music might be seen  to the bigger audience if he fins good manager.
He would like to play in his hometown Ejszyszki. " I would like to organize a concert in Ejszyszki or Soleczniczki. I really like to be there, even though I  do not have much time to visit. This is a better place to breathe" explained Zujewicz.
For now Zujewicz is working in few musical projects. On October 31st  he will have two performs. First in Casino Tornado where he is going to play solo and second in club Lotus where he is going to play with other musicians some rock songs.
Source: http://pl.delfi.lt/kultura/kultura/andrzej-zujewicz-z-ejszyszek-nagral-plyte-solowa.d?id=59829269
Tłumaczenie Karolina Przybyło w ramach praktyk w Europejskiej Fundacji Praw Człowieka, www.efhr.eu. Translated by Karolina Przybyło the framework of a traineeship programme of the European Foundation of Human Rights, www.efhr.eu.