Conference: Lithuanian Poles or Poles in Lithuania?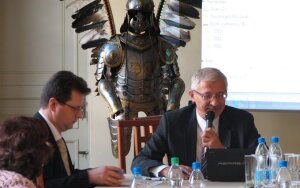 "Only a dialogue can solve the Polish-Lithuanian conflict", said Professor Bogusław Grużewski, one of the organisers of the "Lithuanian Poles or Poles in Lithuania? Problems of national identity (19th-21st c.)" conference. The Association of Polish Scientists in Lithuania (SNPL, Stowarzyszenie Naukowców Polaków na Litwie) was the main organiser of the event. The participating scientists were from Lithuania and Poland.
"The conference had two objectives. The first one was the scientific content, that was supposed to show who Poles in Lithuania are, who the part of population that speaks Polish is. Another part of the conference mirrored the basic actions of SNPL, namely- scientific research."-told PL DELFI professor Bogusław Grużewski, the chief of SNPL. During the first part, the discussed topics were those of the identity of a Lithuanian Pole from the point of view and in memories of such well-known people as: Władysław Zahorski, Michał Romer,
Antoni Wiwulski, Stanisław Narutowicz, Michał Eustachy Brensztejn, Czesław Miłosz and Tadeusz Konwicki.
The second part was dedicated to substantial problems. Irena Mikłaszewicz, PhD, analysed the myth of polonisation of the Vilnius region during the Soviet period. Józef Szostakowski, PhD, was talking about creation and evolution of the press in Vilnius region after the Second World War. Professor Jarosław Wołkonowski presented the academic initiatives in Vilnius in 20th and the beginning of 21st century. Marcin Wakar, PhD, from the Scientific Research Centre of Wojciech Kętrzyński in Olsztyn showed the results of a sociological research on the attitudes of the Polish young in Lithuania. The conference was closed by Professor Bogusław Grużewski with his lecture on the study of the image of Poland and Poles in Lithuanian society.
"Together with the researchers we came to the conclusion that a national identity is not a static idea, it does not depend on the place of living or origin. An identity is created by worldview and only a dialogue can solve the Lithuanian-Polish problems."- summed up Professor Grużewski.
Source:  http://pl.delfi.lt/aktualia/litwa/konferencja-polacy-litewscy-czy-polacy-na-litwie.d?id=59608265
Tłumaczenie Emilia Zawieracz w ramach praktyk w Europejskiej Fundacji Praw Człowieka, www.efhr.eu. Translated by Emilia Zawieracz the framework of a traineeship programme of the European Foundation of Human Rights, www.efhr.eu.