Dilemma and the phenomenon of the Polish national identity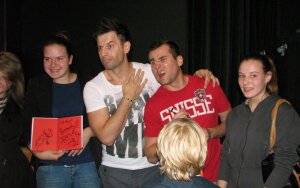 Yesterday in Vilnius Pac Palace was held an international conference in cycle: "Vilnius yesterday, today, tomorrow" called "Lithuanian Poles or Poles in Lithuania? Problems of national identity (XIX-XXI centuries)". The conference was organized by the Association of Polish Scientists of Lithuania and the branch of the University of Bialystok in Vilnius.
A patron of the conference was the Polish ambassador to Lithuania Janusz Skolimowski.
– I am happy that I can participate in the next conference. Polls on the image of Poles in Lithuania and the image of Poland in Lithuanian society were carried out – said Polish ambassador to Lithuania Janusz Skolimowski.
There were presented reports in various fields. There also held a discussion on the evolution of the historical, political and the impact of these changes on the formation of Poles national identity living in Lithuania. Scientists eagerly listened to speeches of their colleagues and then participated in the discussions.
– We should be aware and know what's going on with our neighbors. It is very important that scientists are interested in the subject of national identity because a scientist is one who seeks to the truth. He should be creative and have to connect different fields – said Dr. Małgorzata Kasner, director of the Polish Institute in Vilnius.
– National identity is an extremely important thing for everyone. Today, the problem of national minorities in Europe is very important and topical. Very often become tensions and misunderstandings between people. Today we can enjoy freedom of speech, that we can be here all together and to say openly what we think – said prof. Jarosław Wołkonowski, dean of Faculty of Economics and Informatics in Vilnius of University in Bialystok.
Dr. Rimantas Miknys analyzed views of Michał Romer, Antoni Wiwulski, and Stanisław Narutowicz.
– All of them turned out to be at the crossroad of the old and the new Lithuania. All of them stayed with Lithuania, despite the fact that it was forming in inconsistency with their imagination. On such attitude decided sense of patriotism, a close relationship with folk traditions inherited mainly from the family environment – said Dr. Rimantas Miknys.
The problem of national identity last for 200 years and it is still present.
– About national identity determine primarily three factors: family, school and environment. It is very important in which environment we find ourselves. You cannot lose your national identity. To diversity should not differ but to approach people. The aim of this discussion is to increase respect and tolerance for all people – said prof. Bogusław Grużewski, president of the Association of Scientists of Poles in Lithuania. 
Source: http://kurierwilenski.lt/2012/09/27/dylemat-i-fenomen-polskiej-tozsamosci-narodowej/
Tłumaczenie Daria Bergmann w ramach praktyk w Europejskiej Fundacji Praw Człowieka, www.efhr.eu. Translated by Daria Bergmann the framework of a traineeship programme of the European Foundation of Human Rights, www.efhr.eu.