Narkiewicz wants to create in Lentvaris new government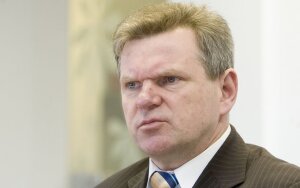 We have to create in Lentvaris a separate unit of local government, believes Jarosław Narkiewicz, Member of Parliament on behalf of the Electoral Action of Poles in Lithuania. According to the deputy, Lentvaris membership to Trakai region does not correspond to the interests of the city and residents.
Narkiewicz thinks that Lentvaris in terms of population is the largest town in the Trakai region, but in terms of solving socio-economic problems at the district level is not adequately represented. "It is understandable and stems from the fact that Trakai has more important historical status of relevance for the Lithuanian nation" – said Narkiewicz.
That is why, MP calls for the creation of new administrative unit. "Lentvaris is already formed an administrative unit, having its own communication infrastructure" – said the MP. Lentvaris received city rights in 1949.
"The city has its own coat of arms and traditional crafts, which include the production of carpets, known not only in Lithuania, but also beyond its borders" – said the MP. Narkiewicz also announced that he has prepared and registered the appropriate amendments to the Law on territorial units and their boundaries.
In July conservative Paulius Saudargas proposed to include Lentvaris to Vilnius. According to the conservative deputy, connecting the city to Vilnius would solve a lot of problems, because 80 percent of people are working in capital. "This will enable the integration of Lentvaris with Vilnius public transport hub, which will provide cheaper costs of travel to Vilnius. What is more, there will appear a possibility to connect Vilnius water suppliers and sewage systems, which will reduce fees for drinking water and sewage disposal. (…) It will be possible to transfer funds to improve and to develop the existing infrastructure of Lentvaris and thus create better conditions and increase interest of investors in the city, both in the country and abroad"- said Saudargas.
Saudargas' idea was criticized by Jarosław Narkiewicz. "Seven years ago Trakai district municipality has adopted a special plan to support the local governments in the region, including Lentvaris. Of course, not all, but much of this plan have been fulfilled"- said to the PL DELFI Jarosław Narkiewicz. According to the deputy, the citizens are not interested in such perspective.
"I think that 7 years ago was conducted a referendum among residents of Lentvaris on connecting it to Vilnius. Interest of citizens in the plebiscite was negligible because they do not consider this problem as an important one. On the other hand, connecting Lentvaris to Vilnius will not solve problems automatically. A good example is Grigiškės which is a province of Vilnius"- said the MP. However, a colleague from parliamentary bench, Leonard Talmont pointed out that connecting Lentvaris to Vilnius will hit in the Polish electorate.

Source: http://pl.delfi.lt/aktualia/litwa/narkiewicz-chce-stworzyc-w-landwarowie-nowy-samorzad.d?id=59409393
Tłumaczenie Daria Bergmann w ramach praktyk w Europejskiej Fundacji Praw Człowieka, www.efhr.eu. Translated by Daria Bergmann within the framework of a traineeship programme of the European Foundation of Human Rights, www.efhr.eu.