Šimašius: A surname is not a part of a language but a unique "trademark" (9)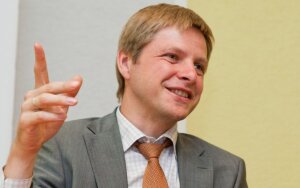 The Minister of Justice and the member of the Liberals' Movement Remigijus Šimašius has announced that some things and words are universal. That is why, some ideas of fighters for the preservation of national language purity are ridiculous. In Lithuania just like all over the world, toilets are marked with an abbreviation WC, although there is no letter W in the Lithuanian alphabet.
"WC is also marked with an abbreviation WC in Lithuania just like all over the world although it is an abbreviation form English language "Water Closet". However, a letter W is not desired – because if we allow a Polish man or a Lithuanian woman who has married to a German or a Briton to write a surname with a letter W, then it will be like a betrayal of the homeland, won't it? It does not matter to us; and those people may even not love Lithuania, but we will force them to look more Lithuanian and then they will love Lithuania, won't they?" – Šimašius wrote at his blog.
The Minister wrote that he returned to this subject because when Andrius Kubilius was in Warsaw last time this subject was raised. Šimašius thinks that it is crucial to hold a discussion about this issue. " I hope that there will be a time when the Sejm will have the courage to admit to this, which admit most of linguists that a name and a surname are not a part of a language, but a unique "trademark" – stated the Minister.
A half-joking, half-serious politician has suggested that "WC" (water closet) should be turned into "VK" (vandens kambariukas) to the supporters of the preservation of national language purity who are opposed to using non-Lithuanian letters in personal documents. "If we do not translate, do not write in Lithuanian, then maybe someone (any nationalist who is tied with a band in the colors of the Lithuanian flag) will not know how to read it and what it is. And I apologize for my phrasing but this person will do his business in pants by the toilet door because he will not know what is inside and whether he may enter there".
Source: http://pl.delfi.lt/aktualia/litwa/simasius-nazwisko-nie-jest-czescia-jezyka-lecz-swoistym-znakiem-towarowym.d?id=59187905
Tłumaczenie Alicja Leśniak w ramach praktyk w Europejskiej Fundacji Praw Człowieka, www.efhr.eu. Translated by Alicja Leśniak within the framework of a traineeship programme of the European Foundation of Human Rights, www.efhr.eu.