The image of Poles in Lithuanian society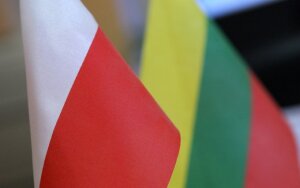 Next week (July 17th) a presentation will be held at the Wilno University, titled "The image of Poles in Lithuania, and the image of Poland in Lithuanian society."
The research, carried out from January 23rd to February 20th 2012, was conducted in order  the social gap between various ethnic groups in Lithuania, obtaining an overview of Lithuanian public's attitude towards Poland and people of Polish nationality, and evaluating the interest of Lithuanian public in Poland, its politics, culture, and Polish-Lithuanian contacts.
The research was first and foremost intended as a "reading" of real tendencies in Lithuanian society regarding the image of Poles and Poland in Lithuanian society.
A sample group of 1009 permanent residents of Lithuania, ranging from15 to 74 years of age was included in the research. The survey was conducted by way of a direct interview, using a previously prepared questionnaire. Its results reflect the opinions of Lithuanian citizens in corpore as well as divided by age, gender, location, education and material status. The survey was carried out by using the Omnibus method and the margin of error was less than 3,2 per cent
The authors are professor Bogusław Grużewski,  from Institute for Social Research and work, senior researcher,  docent dr Laima Okunevičiūtė-Neverauskienė, and senior researcher of Institute for Ethnic Studies, dr Vilana Pilinkaitė-Sotirovičovič.
Source: http://pl.delfi.lt/kultura/kultura/wizerunek-polakow-na-litwie-w-spoleczenstwie-litewskim.d?id=59106215#ixzz20ozkbrRF
Tłumaczenie Andrzej Rola w ramach praktyk w Europejskiej Fundacji Praw Człowieka, www.efhr.eu. Translated by Andrzej Rola within the framework of a traineeship programme of the European Foundation of Human Rights, www.efhr.eu.