Polish actress from Vilnius plays the main part in a Russian TV series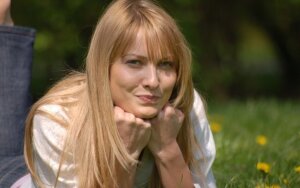 Joanna Moro, a Pole fromVilniuscurrently living inWarsaw, played the main part in the TV series "Anna German. Mystery of the White Angel." The show tells the life story of the famous singer Anna German. "It is very precious material. I think that the part of Anna German is the role of my life," Joanna Moro said in an interview.
Joanna Moro has recently finished working on the 10-part series. The actress spent six months preparing for the role. "I got the part of Anna German because of my knowledge of Russian, my height and my Slavic looks and sensibility. Before, I didn't know the work of this wonderful artist. Today I'm greatly impressed by both her unique voice and her personality. It's a bit of a shame that it wasn't the Poles who got the idea of making a series about Anna German, but the Russians," the actress said.
Anna German was born in 1936 inUzbekistan. In 1946, she came toPolandtogether with her mother. Anna German was educated as geologist, but singing was her passion. Thanks to her mother, she spoke seven languages and she sang in all of them. As a singer, she debuted in 1960. She was awarded in the festivals in Sopot andOpolefor her most famous hits, "Tak mi z tym źle" ("I feel so bad about this") and "Tańczące Eurydyki" ("The Dancing Eurydices").
"Thanks to the show, it'll be possible to learn Anna German's story from her childhood to her death. We'll see the car accident she had on the Motorway of the Sun in Italyin 1967, after which she was in a coma for 10 days. She then spent three years in painful rehabilitation, just so she could stand on her own legs! I will always remember the scenes of walking lessons as an exceptionally moving experience," Joanna Moro says about her work on the set.
Anna German gave concerts practically all around the world, but her most devoted audience was inRussiaand theUS. She performed at the festival inSan RemoinItaly, as well as on the stage of the Parisian Olympia. She won the festivals in Kołobrzeg and Zielona Góra.
She died of cancer at the age of 46.
Joanna Moro is a Polish actress and a graduate of theTheatreAcademyinWarsaw. She appeared in productions such as "Na Wspólnej," "Londyńczycy," "Kopciuszek" and "Faceci do wzięcia."
Source: http://pl.delfi.lt/kultura/kultura/polka-z-wilna-zagrala-glowna-role-w-rosyjskim-serialu.d?id=58977803
Tłumaczenie Aleksandra Musiał w ramach praktyk w Europejskiej Fundacji Praw Człowieka, www.efhr.eu. Translated by Aleksandra Musiał within the framework of a traineeship programme of the European Foundation of Human Rights, www.efhr.eu.