Sadauskas-Kvietkevičius: BANNING RUSSIAN TV CHANNELS IS NOT ENOUGH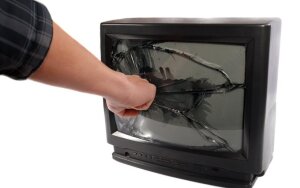 I will state something drastically opposed to my usual views. I am categorically opposed to banning anything at all, and as far as I'm concerned, not only ads for alcohol and tobacco but "weed" as well should be legal.
Let everyone decide for themselves what is best for them. However, I would ban emitting Russian TV channel in a most unsophisticated way.
I have been thinking about it for a long time and all the arguments speak for not allowing any further influence of this kind on the minds of the common rabble. The final straw was an information on DELFI portal about a woman who, after watching Russian TV channels spreading conspiracy theories about the harmfulness of vaccines, killed her child by not allowing it to be vaccinated against pertussis.
This is but one example that has received wider exposure. Vaccines became a pretext to talk about how worried I am by the fact that a huge portion of society functions in an informational and cultural space where there is no responsibility for the information being spread, as stipulated by Lithuanian and European law. In a sense, such long-term exposure to foreign television makes people seem like fugitives from an alternative reality.
Perhaps the best example of such influence is the omnipresent Russian pop, which can be heard from both the newest BMW's and third-generation VW Golfs whose young drives do not appear to be overburdened with intellect. In the south-eastern Lithuania you can catch Belarusian and Russian channels which are considered more reputable than Lithuanian ones. Nearly everyday I meet people who have no idea who is who in Lithuania because they watch exclusively foreign TV.
During the twenty years that independent Lithuania has existed, we have moved away considerably from our former Soviet Union compatriots – the Belarusians and the Ukrainians, not to mention former Central Asia Republics. The issue is not so much quality of life, although that is fairly apparent, as political system, legislation, norms and standards regulating various areas of life. The most rapid changes occurred when we became a member of European Union and we had to adjust our legislation to its standard immediately.
I recently sold my flat to a family from St. Petersburg and it seemed suspicious to them that the sales agreement was so straightforward – all information have long ago been stored in the Central Registry (Registrų centras) and you don't have to run between ten different offices in order to obtain all necessary certificates.
Przed laty, w czasach radzieckich, ogromne znaczenie przywiązywano do meldunku (ros. Propiska), który już po odzyskaniu niepodległości wyparła znacznie prostsza procedura zgłoszenia miejsca zamieszkania. Jednakże co drugi czytelnik, który przychodzi się wypłakać do redakcji "Druskininkų naujienos", nadal – zupełnie bezpodstawnie – wiąże myślowo tę procedurę z kwestiami własności nieruchomości.
Years ago, under Soviet regime, great importance was attached to "propiska" which after regaining independence was supplanted by much simpler procedure of reporting one's living address. Every other reader who comes in crying to the office of " Druskininkų naujienos," still – with no justification whatsoever – associates "propiska" in his mind with his own property.
When turning to the police for help a Lithuanian – raised on Russian TV – expects that at best everything will play out similarly to the crime drama "Mienty." He is surprised that most administrative procedures are vastly different from the ones in the show. Russian talk-shows discuss problems almost entirely foreign to us, if only because of vastly different childcare and judicial systems.
Anti-eastern and anti-capitalist rhetoric of analysts-propagandists often appearing in Belarusian TV also exerts its influence over Lithuanian viewers. And then we wonder where the nonsense posted in the comments on internet portals comes from. Russian secret service is often accused of having hired an entire army of full-time commentators. But why would they spend money on something that Lithuanians themselves do willingly and for free?
From the times of Cold War European civilization could not inure itself against hostile propaganda. It still hasn't inured itself even today, thus the ideologies openly challenging European values develop unhindered. Fewer people express their support for the USA which actively protects our safety, fewer still for Israel, than for Iran or the Hamas terrorists. China, Iran and Russia spread its propaganda on a national level and pay for it from their budgets; meanwhile the Europeans have access to the information provided by free media.
If Virgis Valentinavičius is right in saying that '… certain agencies during a certain confidential conference in certain high-ranking executive government institution have shared information that certain neighbouring country has, via several particular advertising agencies – invested substantial sums in Lithuanian mass media to achieve the goal of preventing the construction of Visagina Nuclear Power Plant, dividing the shares in gas sector and building LNG terminal,' then the informational war has just moved from Belarusian and Russian channels available in Lithuania to local media.
In a cultural sense this occurred much earlier – when the Lithuanian commercial TV channels, pandering to the fans of Russian channels, began emitting Russian shows, all these "Mienty," "Bandutski Pietierburgs" and "Wojny Ekstrasensów."
An entire generation is growing up which can barely understand Russian but still, along with its parents, bounces at the table to the rhythm of songs praising the murderers from Soviet "Spetsnaz" and laughs at the jokes about "dumb Americans."
Being fully aware that my position is purely rhetorical, I would like to end this text by expressing hope that, in spite of everything – without violating the basic rules of democracy –it is possible for our society to inure itself to hostile propaganda. The responsibility for that rests on us – authors and publishers.
When the Lithuanian mass media will learn civic responsibility in matters such as suicides or children's rights then they will be immune to the propaganda from neighbouring countries. For this to happen, the media have to be somewhat stronger financially, so that selling out for Russian money would be less enticing than the fear of disrepute. We can only rejoice that Dalia Grybauskaitė has listed amendments to the press law and lowering the VAT to 9 per cent among government's achievements.
http://pl.delfi.lt/opinie/opinie/sadauskas-kvietkevicius-nie-wystarczy-zakazac-rosyjskojezycznych-kanalow.d?id=58879177 
Tłumaczenie Andrzej Rola w ramach praktyk w Europejskiej Fundacji Praw Człowieka, www.efhr.eu. Translated by Andrzej Rola within the framework of a traineeship programme of the European Foundation of Human Rights, www.efhr.eu.

/p