Jerzy Giedroyc Forum is to be set up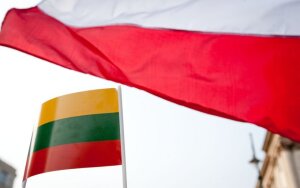 As Aleksander Radczenko has recently written in an article in Polityka Wschodnia, Jerzy Giedroyc Forum is soon to be set up. I myself have supported the idea of establishing such forum.
I had the honour of finding myself in a fairly large initiative group that, apart from mere mortals like my humble self, interested in the improvement of the Lithuanian-Polish relations, included people who for a variety of reasons enjoy deserved authority in the Lithuanian society.
Of course, it's hard to expect that even the most active forum – and many of these have appeared in the recent years – will be able to fix what is consistently being undermined by those who for some reason wish to damage these relations. Besides, I'm not aware of any case in the world where the efforts of intellectuals in a short period of time led to a change in the attitudes of citizens towards a neighbouring country or nation. Nonetheless, similar initiatives, as long as they're accordingly publicized, have a certain positive effect that we can already observe.
It may be presented in the following way:
The stronger the emotions, the more we like to generalize. When we talk of the deterioration of the Polish-Lithuanian relations, we like to imagine two groups, some two coherent and well coordinated communities, which had previously been in agreement (at least more so than now), but today cannot find common ground. At times, perhaps, we tend to find differences within our own team – inPoland, after all, we see two different stances, represented by Civic Platform (PO) and Law and Justice (PiS), or other organizations. Polish politicians may also have differing views on the issue of shaping the Polish-Lithuanian relations and their place inPoland's foreign policy, or on the problems of Polish minority inLithuania. Let's admit, then, that our side lacks this homogeneity, this coordination, perhaps it even lacks consistency and effectiveness.
But we like to assume that the other side is a uniform mass. Between 2005—2007, many Germans imagined that all Poles have an attitude towards Germany and Germans similar to that of the Kaczynski brothers or Anna Fotyga, while in Poland Erika Steinbach was posed as the main player on the German side.
Isn't the situation analogous in this case? Don't we quietly assume that Songaila's nationalists alone set the tone of the shaping (the destruction?) of the Polish-Lithuanian relations, that the mass of Lithuanians consider the Poles in the Vilnius Region to be polonized Lithuanians or Belarusians, who for their own good need to be subjected to a renewed process of lithuanization? That all, or at least the majority of, Lithuanians are ready to tear down plaques bearing Polish writing with their own hands, as was seen on a TV reality show? That in Lithuanian courts the Poles are always the losing party, since the judges are Lithuanian?
Thinking logically, we know well that this can't be true, that such uniformity is difficult to find in any nation. The case is, however, that when the leaders of both countries can't find common ground, parts of both societies support them, while other parts criticize the unnecessary tenacity. It is also always the case that as the dialogue between the elites develops, someone in both societies will come forward, accusing the leaders of his or her country of needless compliance in this or that case, or even of betrayal of national interests.
Initiatives such as the Jerzy Giedroyc Forum show that in both societies there are people who care for a civilized, constructive dialogue, as well as that among them are influential persons, whose opinion isn't meaningless for considerable parts of the society of their country and nation. There are persons enlisted, whom it would be difficult to accuse of lack of patriotism or care for the future ofLithuaniaand Lithuanians. Known Polish activists inLithuania, who cannot be accused of betrayal of the interests of the Polish minority, are also involved.
Therefore, the forum is but one attempt to establish connection between those who wish to carry on the dialogue, rather than to deliver monologues. It's unimportant that this is one of many such attempts, neither the first nor last one. The attempts may be many, and the dialogue may be carried out between various groups inLithuaniaandPoland, between both countries and within them. What is important is the signal that on both sides of the border there are not only people willing to escalate the demands and the grudges, but also partners to a discussion. These partners didn't just appear now, they've always been there, but perhaps they used to be invisible. And yet they have the right to represent the Lithuanian and Polish interests as much as those who consider themselves the only "true" and uncompromising patriots. Precisely thanks to such accordingly publicized initiatives, they become ever more visible to "the other side". It can't be said, then, that the hand extended on one side is left hanging in the air. We can see that on both sides there are those able to join their hands together. It's a good start.
Source: http://pl.delfi.lt/opinie/opinie/powstanie-forum-im-jerzego-giedroycia.d?id=58839883
Tłumaczenie Aleksandra Musiał w ramach praktyk w Europejskiej Fundacji Praw Człowieka, www.efhr.eu. Translated by Aleksandra Musiał within the framework of a traineeship programme of the European Foundation of Human Rights, www.efhr.eu.