Polish Girl Scout representing the children of Lithuania in a European Commission project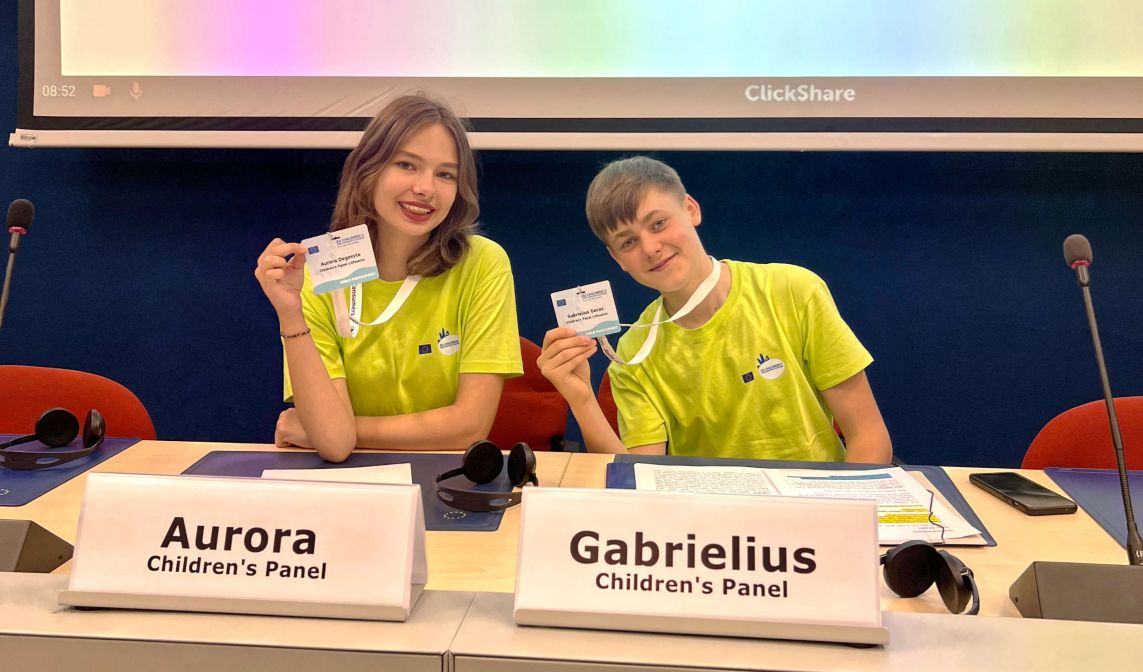 Interview with Aurora Degesytė – a Girl Scout, Pole and activist. College is still far away, yet she is already an example for others. She just returned from Brussels, where she spoke on behalf of Lithuanian children as well as Polish ones. The interview with the young activist was conducted by Apolinary Klonowski. 
The European Commission's project "EU Children's Participation Platform" aims at creating an innovative approach to children and adolescents' rights and activation in the European Union. Participating in it was a Pole from Lithuania – Aurora Degesytė. She represents Lithuania alongside another youth activist, Gabrielius Gėčas – last Monday the 26th of June, they gave speeches in which they emphasised the issues of children in the European Union. 
This was the way the panel's moderator announced the scout's speech: "We asked for a few words from Aurora – about why children's voices matter. […] Aurora represents the children of Lithuania and is from the Polish national minority in Vilnius. Welcome." Sonn, a young girl stepped in front of the microphone. 
"For as long as I remember, I was a part of children and adolescents organisations, which I believe are the foundation of the right of children to participate in society." – says Aurora.
Without forgetting the crucial part of engaging the audience, she asked: "Can those of you who have ever felt a lack of motivation raise their hand? It's normal! When I was feeling that way, I tried not to forget the people we influenced, the kids and students, who became more open after our organised events."
Harassment, financial and minority literacy
Later in her speech, the Pole from Lithuania focused on personal experiences and children's engagement in social activities. She pointed out the fact that in Lithuania this topic is still emerging. 
She added that some of the main issues are widespread peer harassment, gender equality, financial fluency (financial literacy – possessing basic financial competence) and minorities. 
After the speech I contacted Aurora. From the beginning, she pointed out that she had a lot to say and wishes to comment on the matter a bit further than a short commentary. She told us about what the platform is in general and about its purpose: "This platform connects organisations working for children's rights all across the European Union." 
"The platform has an advisory group consisting of children from 14 countries – Children's Panel. I represent Lithuania alongside a boy named Gabrielius Gėčas. In order to be a part of this agency, one had to go through recruitment. The organisation responsible for finding children for this project was 'Gelbėkit vaikus' " – said Aurora about the behind-the-scenes of the project. 
Over 7 years of scouting and other organizations
The young Pole is very socially active. She has been active in the Polish Scouting and Guiding Association in Lithuania since childhood. 
"In scouting, I am a deputy in the 9th Vilnius Girl Scout Troop 'Viator' and I am the leader of the multimedia subdivision in the 'Scout Tree' section," Aurora explained.
"My activism journey started in scouting, I have been part of the Polish Scouting and Guiding Association in Lithuania for 7 years. In Brussels, I talked about how last year I became Student Body President in school, in the Pro-gymnasium of John Paul II in Vilnius. I also talked about how I became a part of the Children's Council of Lithuania, where I had a two-year term, which ended last month. – said the activist on herself. Currently, she is a student at St. John Paul II Gymnasium. 
Poles in Lithuania were also discussed
I asked whether other children or adolescents from national minorities were present. She answered enthusiastically: "In the project, there are many children of national and religious minorities, who are not afraid to talk about their otherness. I mentioned that I am a Pole from Lithuania, and it is a reason to be proud. I am not the only one who talks about such experiences."
"One of the most significant aspects for me is to understand the children gathered here, understand their current issues and compare them to our realities, Lithuanian realities. I am trying to tackle topics concerning minorities, all minorities – therefore acceptance, so that all kids can be treated equally" – she noted. 
Lithuanians impressed by Polish organizations
What's interesting, the other Lithuanian representative in the project, Gabrielius, has a positive opinion of the structure of Polish scouting in Lithuania and the activities of Polish youth.
"My friend knows I'm a Pole. We talked about it because he is also very active socially. He participates in youth and school organizations. He mentioned that he admires our Scouting activities and our developed structures and actions. As Poles, we have reasons to pride ourselves in front of Lithuanians", says Degesytė with unconcealed pride.
Adolescents have potential, and politicians see it
"On Tuesday during the closing ceremony, we welcomed many important individuals. We had a quick discussion with the European Parliament vice president, Mrs Ewa Kopacz. It was really enjoyable to hear the native language there, in Brussels. I said I was a Pole from Vilnius, and she was glad to hear it. Already on the closing ceremony she talked about how our adolescent has the power to do a lot of good. A Commissioner for Justice Didier Reynders was also present. He believes in our potential as well", says the activist.
We asked about the financial fluency Aurora talked about in her speech
"I was in the Children's Council of Lithuania, organised by Child Protection and Adoption Service. It was then that we turned our attention to the topic of financial proficiency. This was emphasized by many council members," she revealed.
Due to my personal obsession with financial literacy, I asked whether there was talk of other domains that should be expanded. As it turned out, similar topics were addressed: "In the Lithuanian Council, no. But in Brussels, we talked a lot about mental health and physical education so that kids could understand their emotions and be able to take care of themselves." 
Plans for the Future and towards Poles in Lithuania
I asked about future plans. The answer I received leaves no doubt that the involved Aurora does not plan on leaving this path: "I'm still pretty young, so college isn't on my mind yet. My goal, however, is not only to be socially responsible in scouting, in Lithuania or in the Vilnius Region, but to be socially responsible in our Polish community as well. I want Polish schools to engage on the country level so that they can be heard."
I asked her to comment on whether she sees an issue with the Polish community in Lithuania
"The language aspect is a current matter and increasingly vociferous. Vilnius Poles must be able to use the general Polish language, but this Vilnius Polish also has the right to exist. I also think that Poles in Lithuania have similar problems to the residents of Lithuania. We can't completely separate ourselves from Lithuanian society," she explained. 
"Now I plan to actively work in the team, help with the growth of young Girl Scouts, but also focus on self-development, gaining competence" – with that our interview ended. 
It will be possible for decision-makers to make better decisions based on the conclusions gathered from the General Assembly of the Children's Participation Platform. One of the main demands was to include children in decisions affecting them and consult with them.
Translated by Katarzyna Dudzik within the framework of a traineeship programme of the European Foundation of Human Rights, www.efhr.eu.