Józef Ignacy Kraszewski in Vilnius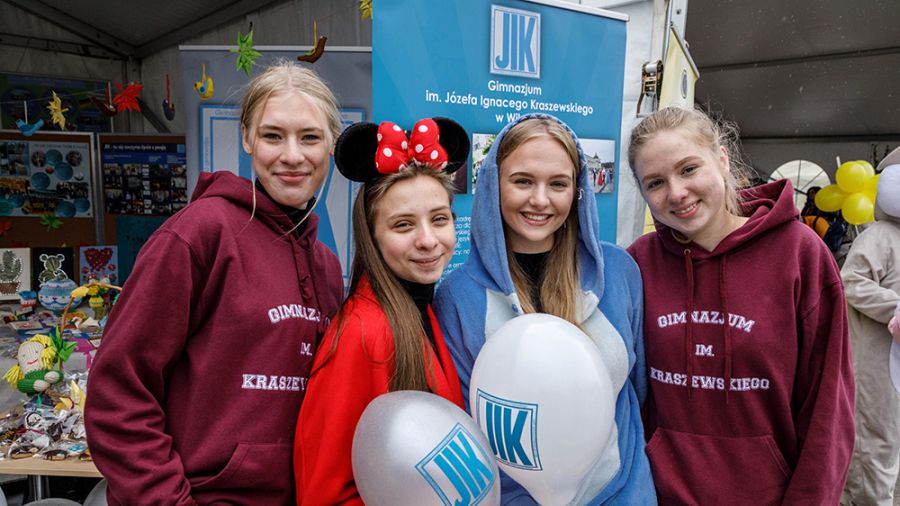 March 19, 2022, marks the 135th anniversary of the death of Józef Ignacy Kraszewski. This is a particularly important date for many, including the community of junior high school named after Józef Ignacy Kraszewski in Vilnius.
Patron of the school for almost 30 years
"In 1993 the school was given a new name of Józef Ignacy Kraszewski. Many suggestions were made beforehand as to who to choose as our school's patron. There were proposals of famous writers and scientists, but we chose Kraszewski because he devoted a lot of attention to the history of Vilnius. What is more, we also wanted the patron to be a role model for the younger generation. Besides, there are plenty of places related to the writer in Vilnius," for TVP Vilnius, says Helena Juchniewicz, the director of the junior high school of Józef Ignacy Kraszewski in Vilnius.
Kraszewski was a Polish writer, publicist, publisher, historian, encyclopedian, social and political activist, co-founder of Macierz Polska, author with the largest number of published books and poems in history of Polish literature, and a painter.
School number XXVI 
"Initially, schools were named according to the assigned numbering. Ours was given number XXVI. Therefore, after a while, although the school was already named after Józef Ignacy Kraszewski, everyone kept calling it the XXVI high school. Now everyone calls it a Józef Ignacy Kraszewski junior high school in Vilnius," noted Helena Juchniewicz.
The school was founded on the basis of the XXVI high school with Polish language of instruction created in 1945 in Naujoji Vilnia (now the district of Vilnius). Before World War II, in the place of the school, there was the state junior high school of Saint Casimir. The new school building was constructed in 1951 and later expanded several times, including the addition of a sports hall in 1976. In 1954, a Polish high school was established and in 1993 the school was given a new name of Józef Ignacy Kraszewski. Finally, in 2014, the J.I. Kraszewski school in Naujoji Vilnia obtained the status of a junior high school.
Signs of Kraszewski's presence in Vilnius 
In Vilnius, in addition to the junior high school bearing the name of an outstanding Polish writer, there is also the street of Józef Ignacy Kraszewski (J.I. Kraševskio g.). It runs through Zwierzyniec, parallel to Adam Mickiewicz street.
Kraszewski was one of the most prolific writers in the world. His writings cover over 600 volumes. He studied at the Faculty of Literature at the University of Vilnius, where he met his first love and made his debut as a writer. The Vilnius period in the writer's life was 6 years long. 17-year-old Józef came to study in Vilnius from Warsaw, where he was born. "You look around; there is no city yet – you have already entered it, and you don't know by what miracle it has suddenly surrounded you," he will write after years, recalling his first meeting with Vilnius.
The house of "a certain Orłowska," where Kraszewski rented an apartment after arriving in Vilnius, is located at Zamkowa street (Pilies 24, now the Narutis hotel). A bilingual memorial plaque on the wall of the building reminds us that the writer lived there. It is also known that he often visited house no. 24 at Niemiecka street. The literary critic Julian Klaczko lived there (actually Jehuda Lejb). He translated into Hebrew, among other things, Adam Mickiewicz's works. Furthermore, Klaczka's family home was described by Kraszewski in the "Novel Without a Title." Some of the memories associated with this place are tragic – namely, the unhappy love for Julian's sister. Kraszewski was her tutor when the girl committed suicide. Since 1838 Kraszewski lived mainly in Ukraine, in Volhynia, and since 1860 in Warsaw. In 1863, he emigrated to Dresden. He died in Geneva in 1887 and was buried in Krakow.
Translated by Marta Graban within the framework of a traineeship programme of the European Foundation of Human Rights, www.efhr.eu.