"Ja za żółw": the liberals want to "desymbolise" the Polish-Lithuanian dispute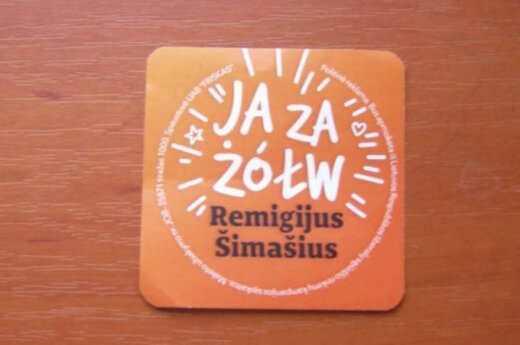 Lithuanian politicians vie with each other declaring their love to Poland and the Poles. It should not come as a surprise as the general election is coming.
Andrius Kubilius, the leader of the opposition conservative party, has recently published his long declaration of love to Poland on PL DELFI. Now it is the liberals' turn.
Remigijus Šimašius, the candidate for Mayor of Vilnius representing the Liberal Movement, has "printed out" stickers with the slogan saying "Ja za żółw" ("I for a turtle").
A quick reminder for those of you who don't know it yet is that the "Żółw" (i.e. "Turtle") social campaign aiming to "desymbolise" the Polish-Lithuanian dispute was put forward by Tomasz Samsel, a publicist and commentator.
"This animal's name consists solely of 'forbidden' letters. Despite all this, it exists and, what is more, it mocks all those who are afraid of it. Neither does it threaten the Lithuanian national identity, nor is it a Polish politician eager for power over the country. It is just a turtle. It should not be blamed or credited with the way it is spelt.
What I'm proposing is Internet and media action. Place the image of a turtle on T-shirts,  stickers and cars, on badges and posters, on the Internet and in real life. Place it wherever you want and in whichever way you like. Pass it on to your friends via Internet communicators. Show up with this word printed on your T-shirts. Take it with a pinch of salt and show everyone that it is nothing dangerous. I'm writing these words not only to the Poles, but also to the Lithuanians and to all those who believe in the power of their nation, as they are right in doing so.
After all, there have been some unpleasant 'episodes' in the history of this little nation that have seriously threatened its wellbeing. In spite of that, it still exists and has got its own sovereign state. Is such nation to be afraid of the 'żółw'? That's ridiculous", wrote Samsel on PL DELFI.
Finally, the "Żółw" campaign has reached one of Lithuania's politicians.
Obviously, web users have not missed the very expression "Ja za…" ("I for…") which calls up associations with the Russian borrowing, similarly to a five-pointed star.
"I want to show that I support the Vilnius Poles' pursuit of respect. I don't want them to feel like intruders in Vilnius. When holding the office of the Minister of Justice, I was responsible for preparing the bill on original name spelling. I'm sure that public institutions are able to and even should communicate with citizens, using the language accessible to them, be it Polish, Russian or English, and it is certainly possible without bearing excessive costs", commented Šimašius on the use of the sticker on PL DELFI.
He assured that neither the slogan, nor the layout had met with criticism from teachers of Polish schools (he did not specify which schools he exactly meant).
He described the layout as celebratory, devoid of any political overtones.
Translated by Julia Pastewska within the framework of a traineeship programme of the European Foundation of Human Rights, www.efhr.eu.