Polish minister R. Sikorski meets the leader of EAPL V. Tomaševski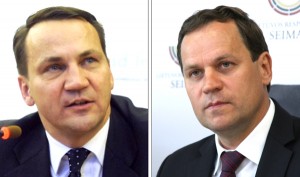 The Eastern Partnership Forum is held in Vilnius on 27-29th November. There came many dignitaries from European Union countries, EU institutions and other countries of Eastern Partnership Programme: Belarus, Ukraine, Moldova, Georgia, Azerbaijan and Armenia.
Radosław Sikorski, the Polish Minister of Foreign Affairs, arrived to Vilnius in the evening on 27th November. He will participate in meetings organized during the Forum. On 28th November, in the evening, Sikorski met with his Lithuanian counterpart – Linas Linkevičius, whereas in the morning  Sikorski met with Valdemar Tomaševski, the leader of Electoral Action of Poles in Lithuania (EAPL) and the Member of European Parliament. During this meeting they brought up issues concerning the Eastern Partnership Forum, they talked about bilateral Polish–Lithuanian relations and about safety issues in that part of Europe. They also raised a few different topics.
The issue covering the matters and rights of Polish ethnic minority in Lithuania could not be omitted during the meeting, thus was discussed thoroughly. Minister Sikorski highlighted that the politics of Poland concerning the protection of Polish minority rights remains unchanged. He also stressed that Poland will strive for rights which are guaranteed by international law and the mutual Friendship Treaty, are exercised by Polish minority.
The leader of the Ministry of Foreign Affairs congratulated Valdemar Tomaševskii who took them on behalf of Poles in Lithuania. Sikorski also congratulated Tomaševski for successes and strong position of Polish community in Lithuania due to work of EAPL.
The Polish Minister of Foreign Affairs emphasized that group of Poles spread around the world should follow the example of perfect self-organization and determination in claiming their laws that is visible in case of Polish community in Lithuania.
Valdemar Tomaševski thanked minister Sikorski for his support, many times lent to Polish community, as well as today's (28th November) meeting which lasted 45 minutes. Although he has a tight schedule, the minister found time to be there.
The meeting was attended also by Jarosław Czubiński, the Polish ambassador and commissioner in Lithuania and  Maria Ślebioda, Counselor and Head of the Political – Economic section of the Embassy of the Republic of Poland to Lithuania.
Source: http://kurierwilenski.lt/2013/11/28/spotkanie-sikorskiego-z-tomaszewskim/
Tłumaczenie by Ewa Żakowska w ramach praktyk w Europejskiej Fundacji Praw Człowieka, www.efhr.eu. Translated by Ewa Żakowska within the framework of a traineeship programme of the European Foundation of Human Rights, www.efhr.eu.