Juškaitė: Meilutytė's triumph and a shame on an international scale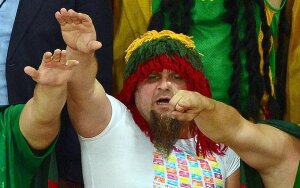 Admiring the triumph of Rūta Meilutytė in London, Lithuania celebrates in praise of the international press. However, not less "promoting" were the Nazi gestures of Petras Leščinskas – no newspaper in the UK missed the opportunity to spread Lithuanian's name and deed.
Petras Leščinskas, as if Lithuania was not ashamed enough with what he had done, didn't hesitate to declare in the courtroom in the UK that such gestures, including imitation of Hitler's mustache and imitation of monkey noises, are not punishable by law in Lithuania. Honestly, it's not surprising that his explanations in the style of a five-year-old boy caught red-handed cause outrage. Therefore, I expected at least a few sharp comments in Lithuanian press, not to mention the reaction of official state institutions.
As we can see, public condemnation of racism and anti-Semitism in Lithuania is just as possible as the fact that pears will blossom on an apple tree in the fall. MP Aurelija Stancikienė filed a request on this matter to the Ministry of Foreign Affairs, which began to digress that all possible steps have been taken to clarify the circumstances of the arrest of the passionate fan of the Lithuanian basketball team, who couldn't keep his hands under control (I would argue that not only his hands).
The Lithuanian basketball team published a statement in which they condemn all forms of discrimination (bravo!), however, they believe that Petras Leščinskas was misunderstood by the British: "Raising a hand or two after applause is a gesture that is often used during sports events in Lithuania and it's not about the 'Nazi salute'". Well, is the imitation of a monkey noises a special form of support of the representation used by a basketball fan as well? And imitating Hitler's mustache – maybe it's just picking one's nose?
On Friday, the Lithuanian National Olympic Committee (Lietuvos tautinis olimpinis komitetas (LTOK)) eventually published a very brief note, stating that the organization has knowledge of this unpleasant incident (as if it could not have it, when the press is full of articles on this matter) and cooperates closely with the Embassy of the Republic of Lithuania in the UK in order to explain all the factual circumstances of the incident. So, should we understand that the decision of the British court is not enough "real"? They could add at least, just for decency, that the Olympics is not the appropriate place for racist anti-Semitic excesses.
The mayor of Vilnius, Artūras Zuokas, behaves strangely as well – to say the least. This "modern" and "pro-Western" mayor put a picture on the pages of social network website Facebook, showing actor Rowan Atkinson (aka Mr. Bean) standing next to Leščinskas with his right hand raised. He posted also some other pictures showing people with raised hands – as if to say that the "poor" Lithuanian fan was punished for what others do as well.
There's no doubt that a hand pointed upwards very often symbolizes joy, willingness to act, or simply a greeting. But did Petras Leščinskas really support the Lithuanian basketball players in an innocent way? Okay, you're right, I forgot that Leščinskas just likes picking his nose with two fingers and he expresses his joy by imitating the sounds made by monkeys.
In light of this, it's not surprising that the mayor of Vilnius has a picture of a discus thrower who was disqualified for doping, Romas Ubartas, published on his profile on Facebook. There are plenty of athletes of unsullied reputation, but, as you can see, the mayor is more impressed by those acting unfair. But it's a completely different topic…
At least Rūta Meilutytė emphasizes in almost every interview that she is proud to represent Lithuania and praise its good name. Her statement is a standard one, typical of Lithuanian sportsmen, who seem to be happy that they can be positive ambassadors of Lithuania. But why, seeking for worldwide fame, we hide our heads in the sand when it comes to condemning racism and anti-Semitism? Unfortunately, the real explanation is extremely sad and gloomy: we still haven't realized what are the horrors of the Holocaust and racism, and what is the dimension of the scale of suffering associated with them.
Source:  http://pl.delfi.lt/opinie/opinie/juskaite-tryumf-meilutyte-a-wstyd-w-skali-miedzynarodowej.d?id=59274975
Tłumaczenie Ewelina Zarembska w ramach praktyk w Europejskiej Fundacji Praw Człowieka, www.efhr.eu. Translated by Ewelina Zarembska within the framework of a traineeship programme of the European Foundation of Human Rights, www.efhr.eu.