Samsel: Perspectives of Polish policy towards Lithuania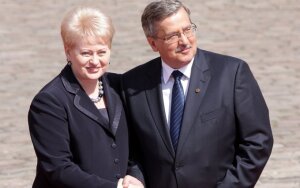 A lot of columnists, web surfers and readers ask themselves what Polish policy should be towards Lithuania. There is no end of disputes and arguments about that. Some people claim that it is the policy of "betrayal" of Poles in Lithuania. Other people claim that this is "the policy of conflict".  Almost of a war. In my opinion, it is none of them.
Put it simply, it is the realistic policy. There is no different way under present conditions. However, this policy is ineffective. The situation of Poles in Lithuania is constantly the cause of disputes because it does not improve but even worsens. Therefore, the question is what Polish policy should be towards Lithuania to change it.
First of all, one has to realize that "it takes two to tango". And there is a key to finish the causes of disputes which is in Vilnius. Poland may only put some pressure but only in a way which is effective. A key to the key is in Lithuanian society, which will be discussed later. For the moment, the Polish policy should not be changed until the election. Anyway, Lithuanian authorities also do not want to introduce any changes.
The President Grybauskaitė directly said about the suspension of contacts. So be it. Particularly, she does not expect neither any further changes against Polish minority nor any acts which will improve the situation of Poles in Lithuania until the election. It is necessary to prepare for talks with new Lithuanian government. It is crucial to take three options into considerations where only one is positive. This positive option would be regulations concerning Polish minority, which Poles have required in Lithuania for years.
The second option – negative. It means the continuation of the current government's policy. The third option is the policy which we observed sometimes for the last 20 years. It was the policy of promises that something would be done but unfortunately there were no dates or voting would be unfavorable. Finally, either the Constitution or the court does not allow. I think that this option is the most likely and negative as well. It is worth waiting  half a year to become convinced which option the Lithuanian government will choose. If the Lithuanian government choose one of two negative options, then the continuation of the current policy should be possible but with some additional elements. I hear very often that Poland cannot do much because Lithuania is an ally in NATO and also a partner in the EU. In my opinion, it gives the possibilities which are not possible for instance in a dispute with Belarus. It is easier to reach "a key to the key" i.e. the society in Lithuania. I have missed that so far – reaching by the media in Lithuanian. After all, the Polish site may use the existing media or to create new ones. It is better to use the existing ones. Why the Polish media are not released in Lithuanian? Of course, they can be supported by advertising. There is so many talks about the poor situation of the Polish media and the necessity of its financing related to "tasks". Here is the task. The Lithuanian society either do not understand the importance of Polish-Lithuanian relations which are getting worse or they have only one-sided picture of it. It is crucial to reach them with arguments, to show the real problems. Of course, it has to be done appropriately. Without aggression or a dictatorial tone. Skillfully, logically and accurately. The other good point of the EU is the freedom on the market. Poland maybe should support the market initiatives of Polish minority. But also in the form related to tasks. Such a regulation is needed so that this kind of initiatives will donate some percentage of its profits for the needs of local Polish culture, conservation of monuments etc. Otherwise, there will be the end of financial help from Poland. ORLEN should have done like this a long time ago. It is necessary to support financially Polish initiatives in Lithuania but it has to be done in a reasonable way so that there will be no "black hole" and these initiatives will make money for next initiatives. It is obvious that it will never be done in a way which does not require financial support but at least some part of these initiatives will be profitable. And nothing other than self-sufficiency strengthens self-esteem. It does not restrict the diplomatic activities on an international arena that Poland and Lithuania are together in the EU. It means referring to European organizations responsible for making a truce . What is more, asking the Polish ambassador from Vilnius to Warsaw for "consultations" and requiring the same from the Lithuanian ambassador in Vilnius would have wide repercussions in Europe only because these two countries are the members of the EU. It would force both parties to debate with the rest members of the EU. And this is the point if a debate with only two parties is not possible. Poland's situations is quite good because Poland is in the right as far as European regulations are concerned.
There are also some other options but let us hope that they will not be needed. Although, it would be even worse if we did not take advantage of the negative options. The key is in Vilnius and Lithuanian side should use it. After all, the first option is advantageous for both parties. Conflict will serve no good. But it should not happen that one party knows it. Will new Lithuanian government realize it? Let us wait.
Source:   http://pl.delfi.lt/opinie/opinie/samsel-perspektywy-polskiej-polityki-wobec-litwy.d?id=59219445
Tłumaczenie Alicja Leśniak w ramach praktyk w Europejskiej Fundacji Praw Człowieka, www.efhr.eu. Translated by Alicja Leśniak within the framework of a traineeship programme of the European Foundation of Human Rights, www.efhr.eu.