The European Commission recquires explanations regarding the Lithuanian language. Cytacka's husband has sued Lithuania in Brussels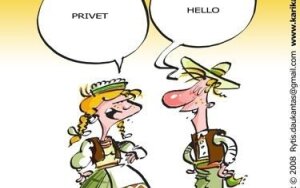 Husband of the vice-minister of energy Renata Cytacka and Polish citizen-Mariusz  Cezary Cytacki, currently employed by the Vilnius Region Local Government, has issued a complaint to the European Commission for being punished for not having taken the Lithuanian language exam.
Mariusz Cezary Cytacki, an inspector at the Vilnius Region Local Government, was punished for not adhering to the National Language Commission's clues concerned with taking the Lithuanian language exam. The punished person claims the recquirements to be against the legal constraints of the European Union.
Today, the European Employment Commission has addressed the Department of the European Law by the Lithuanian Ministry of Justice in order to receive some explanations regarding the Lithuanian language recquirements.
Mykolas Savelskis, senior specialist of the EU Law Realization Department, said that Lithuania has got two months to react, for which the Ministry of Education and Science will be responsible.
According to the National Language Act, the employers of institutions, offices and services- both national and those of the local governments, as well as the employers and officers of police or such services as: law and order, connectivity, transport, health and social care and other service institutions, ought to know the language of their country at the level established by the Government.
The European Commission states that such regulations may not allow toi establish detailed employment recquirements and thus, the Lithuianian authorities were asked to prove that such  a recquirement is vital from the perspective of public interest.
Translated by Katarzyna Piskorz within the framework of a traineeship programme of the European Foundation of Human Rights, www.efhr.eu.